Inside the Kia Motors supply chain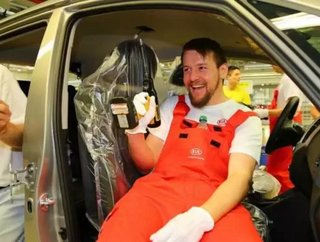 Follow @SamJermy and @SupplyChainD on Twitter. Wedged in between three impressive mountain ranges which form the Western Carpathians, Zilina is a pic...
Follow @SamJermy and @SupplyChainD on Twitter.
Wedged in between three impressive mountain ranges which form the Western Carpathians, Zilina is a picturesque town in Slovakia with a proud industrial history.
But there is something else that punctuates the landscape, and I got my first clue as the cool light of the moon shone upon some railway tracks outside the hotel. There was the biggest freight train I have ever seen passing through, all double stacked with cars from the nearby Kia factory and heading to Western Europe. I later discovered if they are heading for the UK, the cargo makes its way to the Port of Hamburg in Germany, before arriving at the Port of Grimsby and Immingham in England.
The Kia Motors Slovakia plant has recently celebrated the one millionth Kia Cee'd rolling off the production line. As well as this Cee'd milestone, the plant also produces the Sportage and Venga models, and overall the company manufactured and distributed 323,700 cars out of Zilina in 2014.
At an investment of €1.6 billion, the plant acts as the fulcrum to firm's operations, particularly in Europe where around 60 percent of EU sales originate from Kia Motors Slovakia. The main export countries are situated in Western Europe unsurprisingly; France, Germany, the United Kingdom, Italy and all feature prominently in that regard but Poland and Russia also provide a home for a sizeable amount of finished products.
Recently I was part of a group of journalists who were privileged to take a look round the Kia Motors Slovakia plant in Zilina, where we saw every stage of production and were even allowed to take part in building the cars on the assembly line.
Everything was laid out exactly according to plan, and you had to be careful to pick up the next part on the shelf as that corresponded with what model was coming down the line next. You could have been putting a cee'd spoiler onto a Sportage otherwise! We had a go at attaching steering wheels and grab handles to a selection of cars and then we saw a line of finished products at the end of our tour.
Logistics
The benefits of being located in Slovakia outweigh the challenges, and Kia management noted there were a number of skilled workers in the region due to its rich industrial history. Tomáš Potoček, HR Director for Kia Motors Slovakia, said: "We also knew there were a number of local suppliers who could assist us in Zilina, plus it is strategically located in Central Europe. Obviously Hyundai Glovis is our biggest supplier for modules, and we work closely with Johnson Controls."
Martin Lokaj, Supply Chain Manager at Kia Motors Slovakia, added: "We aim to make these supplier synergies with Korea and are using common parts, so we will always act on supplier recommendations from HQ. 70 percent of materials are coming from within the EU, the other 30 percent is mainly from USA. Also, 25 percent of the EU materials come from within Slovakia which we feel is important, as it add to the national economy and overall GDP."
It is clear Kia Motors has a friendly, motivated and successful team at the Zilina plant and this is helping it go from strength to strength. So is there potential for even more growth in the coming years, and will this lead to the building of more facilities?
Kia Motors CEO, Han-Woo Park, concluded: "In the future we have eventualities on productivity and our size can be increased if need be. When we need to we will consider investment if demand exceeds the amount of cars we can possibly supply."
"We want to increase our production capacity without the need to build other plants, so with this plant in Slovakia we will just increase production. Next year we will increase production without physically increasing the size of the plant."
To read the full feature on the Kia Motors Slovakia visit, please read the July issue of Supply Chain Digital:- http://issuu.com/supplychaindigital/docs/supplychain-digital-july2015?e=12457835/13986380