Heathrow plans to double cargo capacity, what that means for UK export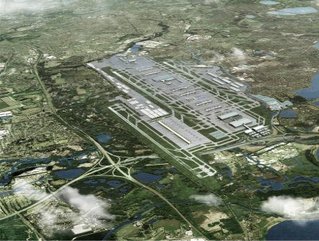 The major London airport Heathrow this week announced a revised plan to expand its facilities, including doubling freight handling capacity.
In the plan, it states that 100,000 new jobs are meant to be created throughout the UK which will bring at least £100 billion of UK economic benefits. The figures are part of Heathrow's revised expansion plans that will be submitted tomorrow to the Airports Commission. The submission follows discussions with local residents and businesses, the public, businesses around the country, passengers, airlines and elected representatives across the UK's nations and regions.
John Holland-Kaye, development director and chief executive designate of Heathrow, said: "Expansion at Heathrow has national and local support. We have worked closely with local residents, listened to their concerns and improved our plans. Our submission reduces the number of properties that would need to be purchased and the number of people affected by significant noise.
"Our plans are deliverable. Heathrow offers the fastest, most cost effective and practical route to connect the whole of the UK to growth and we have proven our ability to deliver a world-class hub that will make Britain proud. Building on Heathrow's existing strength will connect the whole of the UK to growth, keep Britain as an ambitious global nation and help the UK win the global race."
FTA's Director of Global and European Policy, Chris Welsh, said: "The plans outlined by Heathrow today are very much welcomed by the FTA and echo the findings in our own recent report. We have previously stated that it is imperative that the UK has a single air freight hub, and that Heathrow fulfils that role.
"It is an essential hub of connectivity for passengers and freight, bringing together huge resource, expertise and opportunity in one place."
FTA's 'Sky High Value' report underlines that 95% of air cargo is carried in the belly-hold of passenger aircraft; air freight accounts for nearly 40% of UK imports and exports by value and employs 39,000 people, most clustered around Heathrow.
Welsh added: "Heathrow is the UK's main airport hub, but is currently operating at 98% capacity and needs to be able to expand to meet the needs of industry. It is a critical hub for air cargo, offering 191 destinations; it moves 1.5 million tonnes of freight and is vital for UK connectivity to its main overseas markets."
For further information on these developments, visit www.fta.co.uk and www.heathrowairport.com