Handling the Christmas increase in demand, by Makro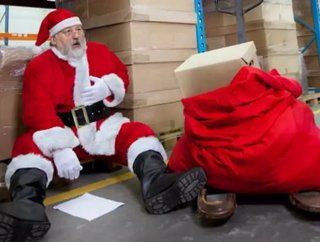 Written by Leon Quinn (pictured, right),Internet Manager forMakro,the leading cash and carry wholesaler in the UK I believe that good planning is key...
Written by Leon Quinn (pictured, right), Internet Manager for Makro, the leading cash and carry wholesaler in the UK
I believe that good planning is key when it comes to handling this increase in demand. Without good planning, handling an uplift like this would result in complete chaos and thousands of dissatisfied customers. Getting it right from the second week in November to the third week in December is so important to any online retail business as this is the period of the year when you engage more new customers than you will in any other period. Providing excellent service to these new customers is one of the most important factors for your future growth – if you get it right first time then they will come back time and time again.
Here are a few tips on how we plan and manage the festive period (plus a couple on how to manage challenges:
Keep everything centred around service– Good service has to be protected at all costs. This is the thing that gives you your online authority and reputation and without it customer retention is impossible.
 Know your staffing capacity- Understanding how many orders your team can handle is key, you don't want to overstaff yourselves with temporary workers thus eating all of your profit away nor do you want to compromise service by overstretching your team
 Look after your team– The health and safety of your colleagues is paramount.  As the weather changes and temperatures fall you must be aware of the challenges this presents and provide your team with the right equipment and working environment to keep them safe and healthy. The Christmas period is a time when you need your team to be working flat out, any absences will give you a headache that could be avoided by careful consideration and management of causing factors. Over the last decade, sickness absence was on average 27 per cent higher during October to March (covering the winter months) than in April to September (covering the summer months) – Labour force survey, office for national statistics.
Maintain a close relationship with your 3rd party carrier service– Closely forecast and plan your uplift with your carrier service. Remember that these people are going to be extremely busy and won't like any surprises so try to forecast as accurately as possible. Keep aware of any issues affecting you logistic chain such as adverse weather and communicate any changes to delivery times as early as you can with your customers.
Have a backup carrier!– Have a backup carrier in place in case things start to go wrong for your first choice carrier. This can happen so don't ignore it!
Plan your last guaranteed delivery date –Display this prominently throughout your website. The date you choose is important; on one hand you want to keep selling right to the last minute but on the other you really don't want to under-deliver on this promise
Forecast your packaging requirements as early as you can – The last thing you need during this period is to run out of packaging. Again, be aware that your packaging suppliers will also be busy during this period so may have extended lead times. I favour over-ordering (if you have the space) just in case your forecasts are off the mark
Good sales forecasting is important to keep the supply chain moving– This is the time to maximise sales so in order to do this you need to have the right stock at the right time. Be careful not to be overeager though as a sale to clear overstocks in January will take a chunk out of all of your profit you've worked so hard to earn over the last 6 weeks. Be aware that you may get bulk orders which take you by surprise and wipe out your entire stock holding on a SKU; it's quite nice when this happens but you don't want dips in availability at this time. Maintain close relationships throughout the supply chain – you never know, maybe your supplier is willing to fulfil this order direct to your customer and everyone's a winner!
Product Mix– If your product mix changes dramatically at Christmas you should understand and plan how you may need to deal with this (do you need different types of packaging?, are you selling items with a higher risk of damage?)
Keep Analysing – It is important that you keep an eye on the numbers during this period. Most businesses will gravitate to the "it's Christmas! Get your heads down and get stuck in" mentality; this is right to a degree but be careful to remember that even though you can make money fast at Christmas, you can also lose money fast at Christmas.
When things go wrong be decisive!– Hopefully not too many things will go wrong for you but when they do be decisive, act fast and keep things moving. Issues can be very emotive for customers during this period (little Timmy's present has gone missing) and by resolving issues quickly you can turn a disgruntled customer into an advocate of your business.
It is important to have some understanding of the lifetime value of your customers – it costs your organisation a lot of money, time and effort to win customers, you should expend equally as much money, time and effort in keeping customers.
The Christmas period can be the most important 6 weeks of the year for your business. By carefully planning and organising your activities around exceptional service this time can be the perfect natural annual springboard for future growth.