Global logistics news roundup: DHL, Tesco & AutoStore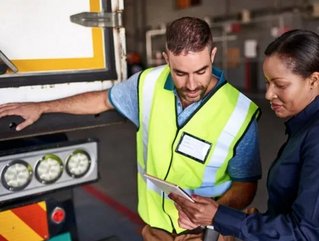 Logistics global news roundup.
DHL and Tesco launch Ireland biomethane-trucks initiative; Founders of AutoStore warehouse tech inducted into Logistics Hall of Fame
DHL and Tesco in Ireland biomethane initiative
DHL Supply Chain has announced plans for biomethane-fuelled trucks, fuelled with a dedicated biomethane production facility in Cork, in the Republic of Ireland.
Biomethane is a low-carbon renewable gas, and the new facility will provide enough of it for up to 150 trucks. DHL says this will save an estimated 15,000 tonnes of carbon a year.
DHL's Ireland initiative also leading grocery chain, Tesco Ireland. Once the new facility is operational, DHL will operate 92 biomethane trucks across Tesco's countrywide network.
The biomethane production site is owned and operated by Stream BioEnergy, and will process 90,000 tonnes of industry and consumer food waste per annum which could otherwise have been sent to landfill.
DHL Supply Chain Ireland MD Ciaran Foley said: "Our customers' transport networks are a vital focus area when looking at how they can achieve their overall sustainability goals, so by making alternative fuels a reality we can really prove our value as a strategic partner."
Tesco Ireland's Retail & Distribution Director Ian Logan said: "We have one of the most sophisticated distribution networks in the country, and improving its efficiency and environmental impact will play an important role in our journey to net zero.
"Our current HGV transport fleet makes over 2,000 trips weekly, serving our growing network of 166 stores nationwide, so moving to a cleaner fuel in our value chain will play a vital role in achieving this."

AutoStore founders join Logistics Hall of Fame
The Logistics Hall of Fame has inducted two new members – Jakob Hatteland and Ingvar Hognaland, founders of the AutoStore technology that has helped reinvent and commercialise warehousing.
AutoStore is cube-based warehouse automation, and can significantly reduce storage footprint. It is run by robots, in lightless dark warehouses.
The system is one of the important significant inventions in modern logistics, and is a fixture worldwide in many warehouses. A total of 1,250 AutoStore systems are currently installed in warehouses operated by 900 unique customers across 50 countries. In 2019 AutoStore was valued at more than $1.5bn and became Norway's first unicorn.
A jury of 70 well-known figures from business, science, politics and the media selected the AutoStore founders.
Hatteland and Hognaland founded AutoStore in 1996 in the Norwegian fjord town of Vats, after developing an idea to overcome warehouse space constraints.
Hognaland came up with the concept of a standardised, automated, cube-based storage and retrieval system to reduce what his company was storing most of – air.
Inspired by the Rubik's Cube, he developed a prototype that utilised a grid system with storage bins that could be retrieved with a robot and delivered to a waiting human at a workstation.
Mats Hovland Vikse, AutoStore CEO said: "Jakob and Ingvar are the epitome of inventors and pioneers. They took a problem and made it into a groundbreaking solution that changes the way we think about using the finite space we have.
Anita Würsmer, Executive Chairwoman of the Logistics Hall of Fame said: "Hatteland will go down in logistics history because he made AutoStore a global bestseller."