The future of logistics warehouses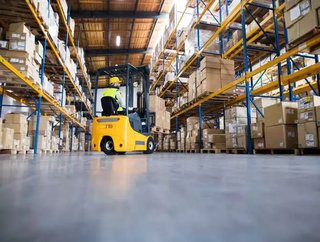 Supply Chain Digital takes a closer look at three leading logistics companies and how they are digitalising their warehouses. Warehousing and logisti...
Supply Chain Digital takes a closer look at three leading logistics companies and how they are digitalising their warehouses.
Warehousing and logistics, an industry with complex operations in need of flexible and innovative solutions. Currently within the world of warehousing and logistics, companies are lining up to jump on the digital transformation bandwagon. Taking a look at some of the major companies in warehousing and logistics, we examine Amazon, XPO Logistics and DB Schenker's successful deployments of innovative technology on their journey to becoming more digital.
Amazon
Amazon, a multinational company that has many strings to its bow. Founded in 1994, the company has flourished into one of the biggest players within technology, web services, logistics and warehousing. Furthering its development, Amazon has been innovating its use of robotics and artificial intelligence (AI) within its logistics and warehousing operations.
Robotics
When it comes to robotics, Amazon envisions a future where "humans and robots work harmoniously to get packages to customers on time." The company started using robotics in 2012, and currently has 26 of its fulfillment centres worldwide using robotics and people together. Ultimately, Amazon strives to harness robotic automation to make the lives of its associates easier by removing tedious, and strenuous tasks such as carrying pods of inventory and transporting pallets, from their duties.
"Amazon fulfillment centres are busy places, with packages and people moving around constantly. In centres equipped with robotics, employees now lift and walk less. Robots pick up heavy items to prep them for shipping or for stowage. Employees who help pick customer orders are able to easily identify items, rather than looking for them on shelves.
Products now come directly to employees," says Amazon.
Amazon has several types of robots currently operational within its warehouses including:
Palletisers - robotic arms with grippers. These robots identify and grab totes, to stack them for shipping and stowing. Currently, Amazon has 30 globally.

Robo-stow - a robotic arm which lifts pallets to different levels within a fulfillment centre or places them on drive units to be carried to their destination. Currently, Amazon has six around the world.

Drive unit - a robot unit that can transport packages around the fulfilment centres. Currently, Amazon has 100,000 worldwide.
Artificial intelligence and machine learning
The software behind the machines. Within an Amazon fulfilment centre there can be between 1-4mn bins, with 10mn items, Russelll Allgor, Chief Scientist at Amazon Worldwide explains the company's adoption of AI and machine learning (ML), in order to efficiently optimise its robotics in real time. By harnessing AI and ML in the form of decision engines, decision logic, computer vision systems and a transportation execution system,  Amazon can build warehouse predictions based on: the likelihood of needing access to pallets again; travel time; what needs to be picked at the same time; and minimised travel distance. 
XPO Logistics
When it comes to technological innovation, XPO Logistics - a leading American logistics services provider - invests US$550mn a year to deploy industry leading innovations across its operations in North America and Europe.
Robotics
Currently, XPO Logistics is harnessing robotics technology within its warehouses to improve security and work productivity. 
C3-XPO - an autonomous security robot that monitors the car parks and exterior of XPO Logistics' sites, 24 hours a day. The robot was a joint venture between XPO Logistics and Knightscope to develop a physical presence that can interpret data in real-time. Within the first six months of operations C3-XPO reduced incidents at its Atlanta facility to zero.  
SEE ALSO:
"We're taking the lead in integrating emerging technology throughout our business, including lesser-known areas such as security. By working with Knightscope to deploy C3-XPO, we've been able to achieve 100% external security at our Atlanta site, while delivering significant savings for our customer," commented Troy Cooper, Chief Operating Officer of XPO Logistics.
The security robot was designed to be weatherproof, with a 360-degree HD, low light camera, that can use visual and audible alarms to deter potential threats, detect loitering cars and exterior fires. In addition, the robot has two-way communication allowing operators to communicate with potential threats without placing a life at risk. 
Collaborative robots - partnering with GreyOrange Pte. Ltd., XPO Logistics has deployed thousands of intelligent robotics throughout its operations in North America and Europe. Designed to collaborate with its existing human workforce, the collaborative robots can move a rack weighing roughly 1,000 - 3,500 lbs, to a workers station to reduce walk-time and manual errors.  
Cloud technology
Alongside these robots, XPO Logistics has developed a cloud-based, mobile software platform for rapid deployment and integration of automation and robotics. The software known as WMx is a single solution for warehouse integration, combining key supply chain elements into one application. 
"Our WMx platform is the future of warehouse management. It turbocharges our operations through greater connectivity, brings innovations on line more rapidly than ever before, and supports distributed order management for greater efficiency in multi-site and multi-channel environments," commented Cooper.
DB Schenker
With over 140 years of experience, DB Schenker is committed to "providing innovative supply chain solutions to challenge the status quo." DB Schenker has experience in supporting the global exchange of goods via land transport, air freight, ocean freight, contract logistics and supply chain management.
AI-powered robotics
DB Schenker is utilising the flexible solution of Gideon Brothers - a global manufacturer of autonomous robots - for logistics processes in its warehouses to drive productivity. 
"In our drive to offer strategic advantages for our clients in the increasingly complex digital environment, DB Schenker continuously explores opportunities to integrate innovations from visionary start-up companies," commented Xavier Garijo, Member of the Board for Contract Logistics at Schenker AG. 
The robots provide next generation robotic vision with its visual perception based robotic autonomy system that combines deep learning and stereoscopic cameras. In addition, the robots can move 800kg, with a hot-swappable battery system to minimise downtime.
"This is a technological leap. Self-driving machines, powered by vision and AI, will succeed where earlier technology failed – it will become ubiquitous in industrial environments," commented Matija Kopić, CEO and Co-Founder of Gideon Brothers.
For more information on all topics for Procurement, Supply Chain & Logistics - please take a look at the latest edition of Supply Chain Digital magazine.