Frieghtliner's forklift savings with Hyster reach truck and Brigg's Equipment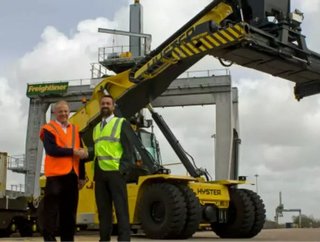 Follow @JosephWilkesWDM Click here to see the accompanying video on our website A rail freight and logistics company has reported a substantial fuel co...
Click here to see the accompanying video on our website
A rail freight and logistics company has reported a substantial fuel cost saving at its busy container terminal through the introduction of new engine technology from a forklift truck distributor.
Freightliner UK Ltd has reported it is set to save thousands of pounds in fuel costs at its container terminal in Cardiff, South Wales, thanks to the latest engine technology at the heart of a new Hyster reach truck, supplied by distributor Briggs Equipment.
The leading provider of materials handling equipment has been working with Freightliner at their Cardiff terminal to develop the most cost effective solution for container handling as the terminal enjoys a significant upturn in business.
Gary Gibbs, Freightliner Logistics Manager, said: "Over the past couple of years we've seen an increase in traffic through the terminal and we wanted to improve capacity and efficiency without drastically increasing costs. Fuel economy was a major consideration when it came to replacing our existing reach truck.
"Reliability was also a key consideration as any delays at the facility can cost thousands of pounds."
Gibbs claimed that Briggs Equipment has the largest team of multi-skilled mobile engineers in the UK, ensuring a rapid response was a significant factor in the company's decision to remain with the Hyster.
"As well as providing the support we need, the fuel efficient truck is proving popular with operators thanks to its manoeuvrability, ease of operation and comfortable cab," he added.
The new RS45-31CH is working at the 25 acre facility in Cardiff and Freightliner Ltd is benefitting from the truck's high-tech Stage IIIB compliant diesel engine that offers reduced exhaust gas emissions in addition to savings on fuel.
Mike Parkin, Briggs Equipment's Port and Terminal Manager, said: "The engine is slightly smaller than on previous models but the new Cummins QSL9 nine-litre unit, when combined with Hyster's Intelligent Design criteria is just as powerful, despite being 20 per cent more fuel efficient.
"Load sensing, a cooling on demand system and variable displacement pumps further improve fuel efficiency as well as productivity."
The terminal handles around 38,000 containers a year and is looking forward to further growth and a return to a 24-hour operation.