Freightliner complete 'year of investment'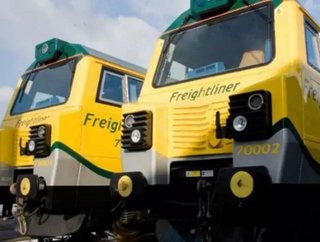 Follow @Ella_Copeland Freightliner, the UKs largest rail freight operator has completed a 'year of investment, spending millions of pounds updati...
Freightliner, the UK's largest rail freight operator has completed a 'year of investment', spending millions of pounds updating and growing it's capabilities.
Spanning across the UK, Freightliner operates 104 intermodal daily services over 37 direct routes nationwide, serving all the UK's major conurbations and carrying 81% of all rail borne maritime containers that enter the UK.
Over the last few months, Freightliner has made a range of investments for the future in its port and terminal network, spending £9 million on new rail head gantry cranes at Southampton Terminal.
Offering an improved the lift rate and expanding capabilities at the terminal, Freightliner claim the new cranes make their service more efficient,  spanning 13 roads in comparison to the 7 roads that the previous cranes could facilitate.
This investment follows similar schemes in Birmingham and Manchester over the last few years to update the cranes at two of the company's busiest inland terminals. Other recent investments have included a new container handling I.T. system which has helped Freightliner to improve terminal and rail operations through a bespoke interface through improving planning of internal IMV movements, reducing downtime, reducing ingate and outgate times and improving reliability across operations. The project represents an advancement in the capability of Freightliner to offer its customers a full e-interface for all of their needs, from overriding product delivery to self-billing. 
With new 40ft twin platform wagons and PowerHaul locomotives Freightliner is able to maximise port and inland capacity, reduce CO2 emissions and increase network utilisation by increasing the amount of boxes that can be hauled on one service. Through the offer of the new ground-breaking 'Shortliner' services, Freightliner is able to increase the number of 40ft containers hauled per train by over 42% in comparison to a standard Class 66 service hauling 24 wagons, whilst still fulfilling the available 20ft market customer demand.
The new wagons complement Freightliner's existing 60ft wagon fleet ensuring a dramatically improved utilisation of both 40ft and 20ft containers.
About Freightliner
Freightliner has a nationwide port and terminal network operating currently from Felixstowe, Southampton, Tilbury, Thamesport and Seaforth to 14 destinations across the country, nine of which are the Freightliner owned terminals of Birmingham, Bristol, Cardiff, Cleveland, Coatbridge, Doncaster, Leeds, Liverpool and Manchester moving over 700,000 containers per year.