European football legends set to mark first Sunday deliveries for DPD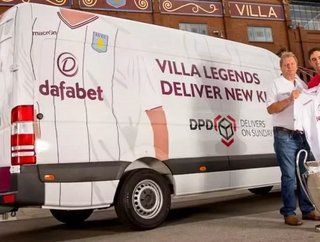 To mark the launch of DPD's new Sunday service, the UK delivery company has teamed up with Aston Villa Football Club for a very special one-off deli...
To mark the launch of DPD's new Sunday service, the UK delivery company has teamed up with Aston Villa Football Club for a very special one-off delivery for Villa fans.
Six Villa legends from the 1982 European Cup winning team - Gordon Cowans, Gary Shaw, Tony Morley, Kenny Swain, Ken McNaught and Colin Gibson - will be hitting the roads around the City of Birmingham in six uniquely liveried DPD vans on Sunday July 13. The Euro legends will personally deliver the club's new away shirts to 100 lucky competition winners.
The joint initiative comes just ahead of the launch of DPD's full nationwide express Sunday delivery service, covering over 98% of the UK population on 20 July.
The new Sunday service will include DPD's award winning Predict timeslot deliveries, where parcel recipients are notified by text or email of their one-hour delivery timeslot in advance, and can then track their driver in real-time all the way to their address.
Dwain McDonald, DPD's CEO said: "I'm a Stoke City fan, but even I can appreciate that having a European Cup legend turn up on your doorstep with your new shirt is pretty cool.
"We think Sunday deliveries are going to be a huge success. We've had a tremendous amount of interest from existing customers and other retailers who can see the appeal. Many of them run seven day operations already and want to offer a wider range of delivery options for their end customer.
"The project to expand our network into a 7 day a week operation has gone well and everything is in place now for the big nationwide kick-off on 20 July."
To be in with a chance of having a European Cup legend hand deliver their new shirt, Villa fans needed to have pre-ordered the new away shirt before midnight on Tuesday July 8. The club will then randomly select 100 lucky winners for the special deliveries. The six branded DPD vans will then leave Villa Park to begin their rounds at 10am on Sunday July 13.
Russell Jones, Aston Villa's Head of Marketing and Communications said, "Our new away kit has more than a passing resemblance to the shirt the team wore for the 1982 European Cup final, so we thought it would be very special to get the guys together again and create a bit of magic for our fans. It should be a great day and we're very grateful to DPD for helping make it possible.
As Aston Villa football club is using DPD's Predict service, fans will receive a notification the night before and will then be given a one-hour delivery slot so they are not left waiting. The notification from DPD will even tell them which legend will be delivering their shirt and they can then track their own legend on the DPD website as he makes his way around his route, right to their front door.
As a result, the club are hoping fans will be able to get some family and friends round and make it a very special delivery.
Earlier this year DPD, owned by France's La Poste, announced its most ambitious expansion plans to date with the development of 15 new depots in the UK in 2014, including three new 'super-depots' capable of handling 25,000 parcels a day.
Construction of DPD's new £100m parcel hub at Hinckley Commercial Park in the East Midlands is well underway. The facility, which will be the largest of its kind in Europe and capable of handling 70,000 parcels an hour, is on schedule to be completed in 2015, creating up to 1,000 permanent full-time jobs, adding to the 7,000 people already employed in the UK.