DHL marks anniversary of Gatwick Logistics Consolidation Centre with award win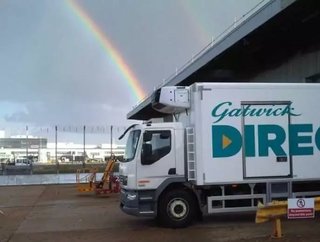 Follow @SamJermy and @SupplyChainD on Twitter.DHL has marked the first year of its ten year contract with Gatwick Airport by winning the airports presti...
Follow @SamJermy and @SupplyChainD on Twitter.
DHL has marked the first year of its ten year contract with Gatwick Airport by winning the airport's prestigious 2014 Supplier Value Award, beating more than 650 other organisations.
The innovative solution has also been recognised by the Airline Operators Association (AOA), scooping the Best Business Partner Award 2014, acknowledging DHL's responsiveness to the airport's changing business needs and its commitment to excellence.
Driven by Gatwick Airport's strategy to achieve a 'Decade of Growth' by increasing passenger numbers to 40 million by 2018, Gatwick and DHL Supply Chain teamed up in 2013 to create a solution for airport 'final mile' deliveries that could handle extra volume without negatively impacting service.
A year on, the solution has reduced CO2 emissions, improved both Gatwick airport security and Health & Safety, provided an enhanced delivery service to concessionaires, and achieved the highest customer satisfaction rating in years.
Simon Duggan, Senior Logistics Manager at Gatwick, said: "We are delighted the DHL team has won the Gatwick Airport's Supplier Award in this year's Value category. In a relatively short period of time, Gatwick and DHL have improved efficiency and displayed effective and collaborative use of gain share mechanisms and proactively pursued future opportunities to benefit both Gatwick and DHL.
Passenger numbers at Gatwick have continued to rise, creating greater demand for goods and services; which in turn required more deliveries into the Airport. To ensure the airport infrastructure could accommodate this growth, and to offer a more flexible solution for airport stakeholders, Gatwick and DHL worked together to develop a new 4,366 square metre Consolidation Centre and inbound service to provide storage, airport security screening and final mile delivery for goods inbound to concessionaires. Branded 'Gatwick Direct', the new service began in November 2013.
Paul Richardson, MD Specialist Services at DHL Supply Chain, added: "The recognition from both Gatwick and the AOA awards highlights the dramatic improvement delivered to the airport's partners and retailers.
"Understanding our customer's customer has ensured we've delivered on our promises at Gatwick. Driving and delivering change within the airline and airport communities remains a key focus for DHL while the development of our partnership with Gatwick will provide further opportunities to support the sector."
DHL worked closely with concessionaires to tailor the solution to individual supply chain requirements, ensuring cost neutrality as a minimum whilst delivering an improved service.
Since the partnership began, concessionaire participation in the final mile service has increased from 35 percent to 87 percent and despite the huge increase in uptake, customer satisfaction has also increased, with passenger satisfaction up five percent.
By providing concessionaires with the option of a single drop-off location, goods are consolidated and delivered in one go. This has cut the number of vehicles going airside bringing substantial benefits to Gatwick through improved Health & Safety and reduced carbon emissions.
The solution provides the flexibility to support Gatwick's target of increasing passenger numbers to 40 million by 2018 and ensures passengers are serviced by the 450+ partners in a way that is efficient and profitable for all parties.
For more information, please visit: http://www.mediacentre.gatwickairport.com/