DHL Express in Heathrow gorilla logistics triumph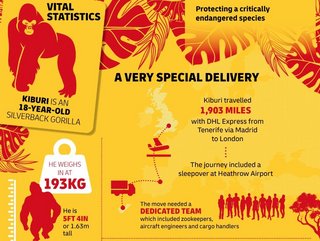 DHL Express specialist logistics staff help ship Kiburi the silverback gorilla to Heathrow as part of London Zoo endangered species breeding programme
DHL Express has flown a 193kg silverback gorilla to London as part of an international endangered species breeding programme.
The 18-year-old western lowland gorilla, named Kiburi, is now safely at home at London Zoo after global logistics experts planned the 1,903-mile journey from Zoo Loro Parque in Tenerife.
Kiburi travelled in a custom-built crate supported by a dedicated team of zookeepers, aircraft engineers, cargo handlers, security teams, pilots and drivers.
The 5ft 4ft primate joins London Zoo's females, Mjukuu and Effie, as part of a bid to increase the gorilla population. The move was four years in the making, after London Zoo's male gorilla, Kumbuka, died in 2018.
Roy Hughes, EVP Network Operations & Aviation Europe at DHL Express, said: "Helping Kiburi move to London has been a huge privilege. The logistics effort behind transporting him was no mean feat but our team of experts, working closely with ZSL London Zoo and Loro Parque, went to every length to ensure his journey was safe and comfortable.
"Everyone at DHL is very invested in this conservation move, and we look forward to seeing Kiburi enjoying his new Gorilla Kingdom home."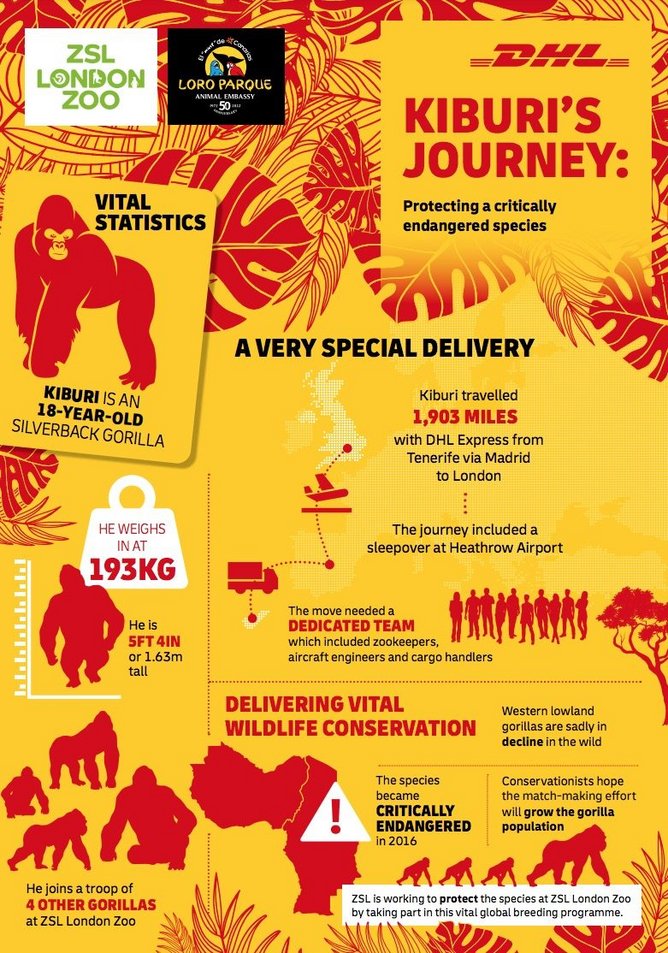 ---------------------------------------------------
DHL Supply Chain appoints new Asia pacific CIO
In other – slightly less exotic – DHL news, DHL Supply Chain has appointed Mihaela Isac as its Chief Information Officer for Asia Pacific.
DHL Supply Chain is the world's leading contract logistics provider and a business division under Deutsche Post DHL Group.
Isac was most recently IT Life Sciences & Healthcare VP in North America, where she was responsible for enhancing DPDHL's IT offering in transportation and warehousing in the life sciences sector.
During her three years in North America, she spearheaded digital tech innovation projects for customers.
She says: "I have seen first-hand how our teams at DHL Supply Chain used technology to maintain business continuity throughout the pandemic and other disruptions.
"Customer needs have evolved. We need to focus on enhancing capabilities and enabling success for data analytics and accelerated digitalization to build resilience in our customers' supply chains."
Terry Ryan, CEO DHL Supply Chain Asia Pacific, said: "Michaela's international experience and capabilities make her the perfect choice to enhance our digitisation agenda to drive growth in the region."