DHL delivers as Rugby World Cup kicks off in England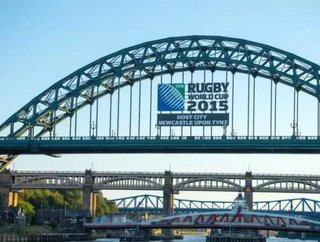 Follow @dhlexpressuk @SamJermy and @SupplyChainD on Twitter. DHL, Official Logistics Partner of Rugby World Cup 2015, is set for action as the sports...
Follow @dhlexpressuk @SamJermy and @SupplyChainD on Twitter.
DHL, Official Logistics Partner of Rugby World Cup 2015, is set for action as the sport's premier world Tournament begins in London with the opening match between England and Fiji.
The world's leading logistics provider is undertaking one of its largest challenges ever in the UK to help deliver the year's biggest international sporting event to millions of fans around the world.
Working with England Rugby 2015 to handle all freight and logistics for the 19 teams travelling to England to take part, throughout the Tournament DHL will transport more than 48 tonnes of equipment for all 20 participating nations – from match kit and scrum machines to tackle bags and ice baths – across 89 team base locations and 13 match venues.
The company's support also includes stadium infrastructure and fit-out, fulfilment of international ticket distribution and delivery of doping samples to testing laboratories, among many other requirements.
Ken Allen, CEO, DHL Express said, "DHL has been planning meticulously with England Rugby 2015 over the last two years to ensure the ultimate competition in the world Rugby calendar is an unqualified success.
"Harnessing our global network capabilities and working behind-the-scenes throughout the Tournament, DHL is committed to delivering a seamless logistics operation so that the players and their support teams can focus on bringing their best game to the pitch, making Rugby World Cup 2015 memorable for fans whether they're watching from the stands or across the globe."
England Rugby 2015 Chief Operating Officer, Neil Snowball, said, "We would like to extend our thanks to DHL for their support in helping us to plan and deliver the complex freight and logistics requirements for Rugby World Cup 2015. DHL are leaders in the field and their high level service has allowed our freight and logistics team, lead by Shaun Day, to ensure the best possible operation is in place for all our stakeholders."
DHL has been helping build excitement and anticipation in the run-up to this year's Tournament with the international Rugby World Cup Trophy Tour, showcasing the Webb Ellis Cup to audiences around the world, culminating in a 100-day tour of the UK and Ireland to mark the final countdown to kick-off.
The company also searched the globe to find 48 children who will each deliver the official match ball to games during Rugby World Cup 2015. Thirteen year-old Fijian schoolboy Manueli Rauqeuqe won the honour of delivering the first ball of the Tournament when his country meets home nation England for the opening game at Twickenham.
Delivering Rugby World Cup 2015 – Tournament logistics in numbers:
48,200 kilos of team freight from the 20 participating nations is being delivered for the Tournament, with 26 eighteen-ton vehicles covering about 57,000 road miles over the event's duration
DHL will be relocating team equipment 192 times, and deliver 300 official match balls and 20 sets of uprights, to the 13 match venues
Training equipment is being delivered to teams across 38 training venues throughout the Tournament, to include 2,140 drinks bottles, 1,750 bibs, 1,200 cones, 560 tackle suits, 307 hit shields, 196 tackle bags and 20 scrum machines
DHL has delivered over 400,000 tickets internationally to more than 160 countries, of the 2.4 million tickets being sold; the furthest delivery was to Invercargill in New Zealand, almost 12,000 miles from London
Follow our Rugby World Cup 2015 updates at: https://twitter.com/dhlrugby
DHL is the leading global brand in the logistics industry. DHL's family of divisions offer an unrivalled portfolio of logistics services ranging from national and international parcel delivery, international express, road, air and ocean transport to industrial supply chain management. With about 325,000 employees in over 220 countries and territories worldwide, DHL connects people and businesses securely and reliably, enabling global trade flows. With specialised solutions for growth markets and industries including e-commerce, technology, life sciences and healthcare, energy, automotive and retail, a proven commitment to corporate responsibility and an unrivalled presence in developing markets, DHL is decisively positioned as "The logistics company for the world".
DHL is part of Deutsche Post DHL Group. The Group generated revenues of more than €56 billion in 2014.