DCM International unveils DB Schenker UAE logistics hub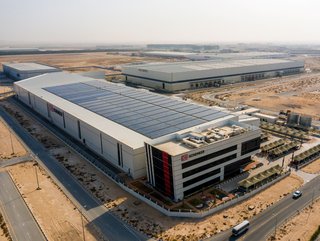 DCM International, the architectural design & construction project management firm, gives insight on its work on DB Schenker's new green UAE hub
Disclosure: This article is an advertorial, and monetary payment was received from DCM International. It has passed Editorial's assessment for being informative.
DCM International, the architectural design and construction project management consultant, has unveiled its latest completed project for DB Schenker, one of the world's leading logistics service providers.
Schenker's DLC 3 mega logistics hub, based in the United Arab Emirates, was designed and project managed by DCM, and stands as the pinnacle for sustainable and ergonomically effective design, both regionally and internationally.
This project represents the second commission of DCM by Schenker. DCM designed and project managed the DLC 2 facilities completed in 2019, which included DB Schenker's 36,000 square-metre distribution centre and a 4,000 square-metre regional head office.
"The concept designs that DCM presented to our executive team at the inception of the project is exactly what was delivered, if not better than we expected," Says Ako Djaf, Vice President at DB Schenker. Djaf oversees Schenker's Contract Logistics division in the Middle East and Africa regions, and worked closely with DCM on both projects.
The completed 72,000 square-metre complex incorporates solar power generation and water recycling from the air conditioning system, to maximise the building's energy efficiency and minimise operational costs.
The facility's sustainability credentials are impressive. Its solar systems are designed to provide 95% of DB Schenker's energy demands for the vast expanse of warehouse and office space, saving an estimated 4,000 tonnes of CO2 emissions annually.
"This is equivalent to planting over 400,000 trees," Djaf said. "We needed companies who share the same ambitions".
Not only delivering both projects within time and on budget, but also aiding Schenker in achieving its ambitious sustainability goals, DCM is a safe bet for companies looking to develop similar facilities in the region.
Diaf concluded, "We wouldn't have reached our ambitious milestones without strategic partners like DCM. Not only was the project completed to the highest of international standards, but also both within our tight timescale and budget constraints."
Delivering first-class building designs, repeat client mandates and aiding executive teams to reach ambitious development targets are all common themes since DCM was established in 2005. Among its other repeat clients are Gulf Marketing Group, Weatherford, Emerson, Tetra Pak, Johnson & Johnson, PepsiCo, INL, NTDE and Wrigleyloe.
In a similar manner as DB Schenker's full development service, DCM designed and project managed the regional head office and industrial campus for GMG's Trilogi, the state-of-the-art energy efficient third-party logistics provider and Emerson, the US manufacturing and technology giant. For Weatherford, the energy services company, DCM designed and managed numerous projects including their Dubai HQ, its Abu Dhabi manufacturing and operations base. Additionally, DCM designed and project-managed Weatherford City, a 27,000 square-metre operations and manufacturing base in Basra, Iraq – one of the highest-quality complexes in the region which accommodates 1,250 staff.
Whomever its partners, DCM's ambition remains unchanged: to provide the highest international standards in quality design and diligent project management in a cost effective manner.