Business should never tyre of cost and time saving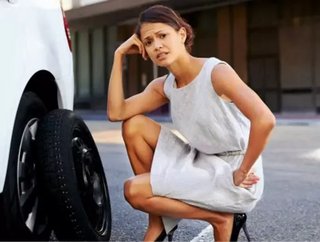 Written by Nigel Weller (pictured, right) founder and owner of Puncture Safe UK Youre in the office and a call comes in from the police. "Theres...
Written by Nigel Weller (pictured, right) founder and owner of Puncture Safe UK
You're in the office and a call comes in from the police. "There's been an accident. Mr Joe Bloggs was driving a Your Company Name lorry and the tyre burst. The lorry hit the central reservation, hitting five cars along the way and several people are injured…"
Is your first thought the safety of the public? The safety of the driver? The contents of the lorry's load? The customer who is expecting the load? The image the company now has in the aftermath of the accident? Are you even concerned for your own position, now that you have the law to answer to?
Whatever your answer to this scenario was, it demonstrates that tyre safety and reliability does have a real impact on how supply chains are managed and how one incident can have major setbacks for your company.
Tyre reliability is something that I have worked with all my life. As a young man, I worked with agricultural machinery: Tractors, trailers and even dumpers. Punctures were commonplace and replacing them was costly, but it was more of a time issue for us workers. We were always up against deadlines and working flat out, so to down tools because of a puncture was seriously out of the question.
Business continuity also affects reputation. If one of your vans is out on a delivery and gets a puncture, someone has to ring the customer and explain why they w
ill not be receiving their goods today. Chances are, that customer is up against deadlines themselves or they are meeting their own demands, so inevitably a non-delivery from you will have an impact on your reliability and it will reflect on the service that you offer your customers. It could even cost you the customer altogether.
"But, punctures aren't my fault!" I hear you say, and yes, in some respects you are right. You might not have caused the puncture, but you can be responsible for preventing them. You are also responsible to deliver on what you promise, maintain the business' reputation and, ultimately, make sure that your staff are delivering in vehicles that are safe – in every way possible.
But, there is more still. We've not even started to consider corporate social responsibility, and this is one of the most important factors when it comes to tyre protection.
All businesses worry that they aren't exercising enough CSR and nothing screams responsibility more than prevention – after all it is better than cure!
Once the word gets out that your business is preventing accidents by installing a puncture-resistant solution into tyres, this can only have a positive effect on the company PR. It will also demonstrate that you are leading the way in this field, paving the way for others to follow.
It goes without saying that business continuity, CSR, staff and customer reliability are all objective costs, but there are also the relative costs associated with tyre damage and replacement too.
During 2010, in the haulage industry alone, there were 7,103 accidents involving at least one HGV, with 9,686 casualties. Of those casualties, 263 were fatalities. Fatal accidents are estimated to cost on average around £1,790,000 per accident. These are extreme figures, but it is reality that some of these accidents were caused by poor tyre maintenance.
Compared to the cost of replacing a tyre, puncture prevention is much more cost effective. In my experience, punctures in industries like the supply chain industry occur on average about once a month, depending on the industry. Each puncture in a lorry tyre will mean replacement at around £100 per tyre, but resistance gels, like Puncture Safe, can be installed in all tyres for just £50 – and it lasts the life of the tyre.
Gels are adaptable as well for multi-use, so whether you have a fleet of lorries or a fleet of cars, you can protect any tyre you like.
Having the correct tyres installed and maintaining the correct tyre pressure can also impact on fuel consumption by around 30%. Therefore a fleet manager's job is important when it comes to checking tyres regularly.
It just goes to show that you are probably relying on your tyres more than you think!
About Puncture Safe UK
A Hampshire-based business launched to help vehicle owners both in the commercial and domestic sectors save thousands on their repair costs.
Puncture Safe UK was launched in the Portsmouth region by Nigel Weller, whose background in the agricultural industry saw him identify a need to help large vehicles protect their expensive tyres from frequent replacement. This was something that not only impacted on time but was also a considerable cost to the business.
Mr Weller, who is from Rowlands Castle near Portsmouth in Hampshire, said: "Tractors, trucks and lorries often suffer from punctures due to the nature of their work and replacing tyres is expensive. Therefore, I decided something had to be done to keep the costs down – that was where Puncture Safe came in".
Puncture Safe is a safety product, installed into any size of tyre that can prevent accidents that are as a direct result of punctures. Both a time sensitive and heavy cost issue for many traders who rely on their vehicles to be available and functioning 24/7, punctures can cause more than just a nuisance. There is also the safety aspects involved that come with using tyres that have sustained punctures which can cause further inconvenience and injury.
It is a gel-like substance that is easily installed through the air tube of the tyre and, once inside, turns solid, to help protect the tyre for the duration of its life.
"From the early interest I have received so far, I truly believe this is the answer that so many vehicle owners have been waiting for and I'm so pleased to be finally launching my business" said Mr Weller.