Bahrain Air Show opens amid controversy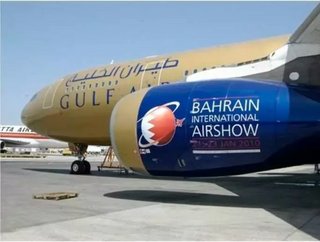 Trying to follow up on its modestly successful 2010 inauguration, the second Bahrain Air Show kicked off today, marking the first time the Gulf island...
Trying to follow up on its modestly successful 2010 inauguration, the second Bahrain Air Show kicked off today, marking the first time the Gulf island kingdom has hosted a major international event since violent protests began last year.
Already, the Bahrain Formula One Grand Prix and Volvo Golf Championship were canceled in 2011, so state officials are eager to show the wary West that the country is still a stable place to do business.
Notable plane manufacturers like Boeing, Airbus, Bombardier and Embraer are attending the Bahrain Air Show, while defense contractors like Lockheed Martin are also currently attending.
The show is crucial for Bahrain as a whole, as the Middle East nation relies heavily on investments from logistics and supply chain-related companies. Unlike other countries in the area, Bahrain does not possess large oil reserves, and relies mostly on its business-friendly reputation to draw foreign investment.
"The on-going political problems in Bahrain mean that the show is unlikely to be as successful as the Bahrainis would like it to be," said Michael Stephens, researcher at Qatar-based Royal United Services Institute for Defence and Security Studies, in an interview with Reuters.
"Bahrain relies on its reputation as a good place to do business to survive -- they do not have much oil or material resources. The air show needs to be a success for them to revive their international reputation."
SEE RELATED STORIES IN THE SUPPLY CHAIN DIGITAL CONTENT NETWORK
Strait of Hormuz's potential supply chain impact
UK supply chain threatened in Middle East, Africa
January's issue of Supply Chain Digital is live!
The Sunni-led state has had trouble overcoming opposition rising from the Shi'ite Muslim majority population, where many of the demonstrations and marches have turned violent in recent months.
According to estimates, the unrest has cost the nation's economy roughly $2 billion.
Crackdown on the protests drew criticism from all over the world, and led to the UK and United States imposing arms sale restrictions to Bahrain. With other nations in the area eager to step in should armament deals with Bahrain fall through, Western countries have had no problems finding replacement investors.
"There's fierce competition out there to grab deals from Saudi Arabia, UAE and other Gulf countries looking to strengthen their force," Riad Kahwaji, chief executive of Dubai-based think tank INEGMA, told Reuters.
"These companies will be at the air show not for Bahrain but for their neighbors like Saudi Arabia and UAE."
Whatever happens at the Bahrain Air Show this weekend, it's clear that the event is critical not only to the host nation, but to Middle Eastern neighboring countries as well. Companies that work in the supply chain space should be sure to follow the happenings at the show closely.