Asleep at the Wheel: Robot Cars to Take Over Roads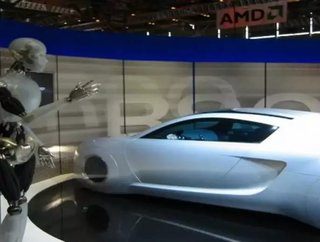 Imagine getting into the driver seat of your car, merging onto the traffic-filled freeway and then putting on your eye mask and manSnuggie, for a much...
Imagine getting into the driver seat of your car, merging onto the traffic-filled freeway and then putting on your eye mask and man Snuggie, for a much needed rush hour nap. The outlandish vision of a driverless car may seem too good to be true, but recent robotic car innovations by Google and other main auto-manufacturers are indicating robotic cars are a soon to be reality.
The Google's Prius leads the way as the smartest car to ever be made. Equipped with a lidar—a $75,000 laser radar—the vehicle has a real time, 360 degree understanding of its surroundings. Every street sign, bush, cyclist and animal is registered by the car, and it navigates itself according to fluctuations in the environment's stimuli.
VIDEO: The Driverless Car is Here
So far seven test cars have driven 1,000 miles entirely without human intervention, and have traveled the sweeping span of 140,000 miles with limited human interference. In an effort to prove the legitimate competency of the cars, engineers have tested the robo cars in exotic and challenging landscapes. Google's Prius successfully drove itself through the crowded, steep and curvy terrain of San Francisco's Lombard Street. Audi effectively sent their four-wheeled robot to the top of Colorado's Pike's Peak. And a Volvo car successfully drove a passenger to work, while he luxuriously read the morning newspaper.
As an ambassador to the robot race, the state of Nevada recently passed a robot-friendly law, which legalized the driving of self-steering cars. The law has Google's lobbying campaign to thank for its initiation, as the company is striving to legalize the use of driverless cars across the country.
RELATED ARTICLES
iPad HD Pulls Hard on the Supply Chain
While the idea of a driverless car seems unsafe and outlandish, it seems like a safe bet when held up against the haywire unpredictability of human drivers. 32,885 people died from US traffic incidents in 2010. Scientists say these tragic results could be avoided by the hyper-aware robo vehicles. Driverless cars have faster reaction times than humans, never get drowsy or drunk, and most certainly never change lanes while updating their Facebook status.
VIDEO: Robot Cars at Intersection
What this means for the future of the supply chain is hard to say. While the prospect of autonomous cars are exciting, the mass production of such vehicles is still years away. However, the realization of such vehicles could mean drastic improvements in the sectors of risk management, product damage and time saving, as the robots would have logistics down to a cold, lifeless science.