Asian economies most vulnerable to natural hazards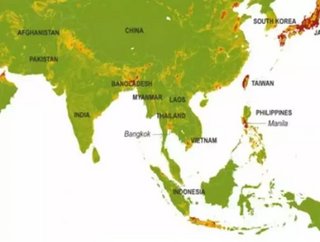 Follow @WDMEllaCopeland A number of Asias most important growth economies are at the highest risk from Natural Hazards, according to the second Natural...
A number of Asia's most important growth economies are at the highest risk from Natural Hazards, according to the second Natural Hazards Risk Atlas released by industry research group Maplecroft.
Countries are rated by Maplecroft in accordance to the level of exposure to their cities and trading hubs in the event of natural disasters such as flooding, earthquakes and tropical cyclones. The study highlighted the economies of Bangladesh, the Philippines, Myanmar, India and Vietnam in the top ten countries with the greatest proportion of their economic output exposed to natural hazards.
In addition, these countries were also judged to demonstrate 'poor capability to recover' from any significant event exposing investments to risk of supply chain and market disruptions. This could lead to business interruption costs and material damage to essential infrastructure.
Knock on effects
Maplecroft's study determined that these knock on effects of a natural disaster could also exacerbate other risks like societal unrest, food security, corruption and rule of law, potentially leading to increased political risk.
"High exposure to natural hazards in these countries are compounded by a lack of resilience to combat the effects of a disaster should one emerge," explained Maplecroft's Head of Maps and Indices Helen Hodge. "Given the exposure of financial and manufacturing centres, the occurrence of a major event would be very likely to have significant impacts on the total economic output 
of these countries, as well as foreign business."
The top countries at risk:
Bangladesh
The Philippines
The Dominican Republic
Myanmar
India
Vietnam
Honduras
Laos
Haiti
SEE RELATED STORIES FROM THE WDM CONTENT NETWORK:
'Weak resilience'
High levels of economic exposure, coupled with weak resilience, means that the fallout of a large natural disaster would likely be felt keenest in the top ten countries at risk. Impacts in these exposed Asian countries are also heightened by their economic fragility. Some of the highest risk countries have substantial economic outputs, but they are fuelled by large, poor populations,
Countries with strong resilience
Japan, China, Taiwan and Mexico are calculated to have the highest economic exposure to natural hazards in absolute terms. However, huge economies like Japan have the capacity to recover quickly from natural disasters due to entrenched resilience factors such as economic strength, strong governance, disaster preparedness and established infrastructure – things that are largely ineffective in the emerging growth economies.
Maplecroft CEO Alyson Warhurst stated "this presents an exciting opportunity for business to contribute to reducing risk and thus to enhance their own security in the future economic growth environment. As the middle classes grow in these emerging economies the appetite for insurance will also grow, incentivising stronger disaster preparedness."
About
The Natural Hazards Risk Atlas helps companies to assess the risk across 197 countries. Based on research undertaken by Maplecroft and UN OCHA, it includes 29 risk indicies and interactive maps that measure physical exposure to 12 different natural hazards and provides a calculation of overall economic exposure and socio-economic consequences.
All information and pictures are copyrighted to Maplecroft.