Annual State of Logistics Report: US supply chain on path of slow growth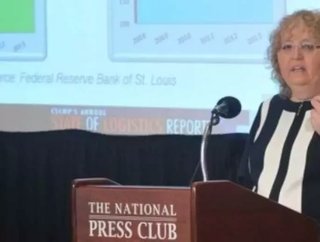 The Council of Supply Chain Management Professionals (CSCMP) has recently released its annual "State of Logistics Report", presented by Penske...
The Council of Supply Chain Management Professionals (CSCMP) has recently released its annual "State of Logistics Report", presented by Penske Logistics at a press conference in Washington DC.
The report, which is written by transportation consultant Rosalyn Wilson, has been providing insights into the world of logistics since 1988. Its findings are the result of extensively tracking and measuring all costs throughout the US supply chain. As a nation, US businesses spent approximately $1.39 trillion dollars on logistics in 2013, which is a 2.3 percent increase on the previous year.
However, logistics as a percent of US gross domestics product (GDP) declined for a second year in a row, indicating that the sector may not be keeping pace with overall pace of growth in the economy despite its gradual resurgance
Rosalyn Wilson, author of the 25th Annual State of Logistics report, said: "This will the best year we have experienced in the last eight years. The first five months of 2014 have been the strongest since the end of the Great Recession."
According to this year's report, the biggest issue affecting the industry today is the truck driver shortage. Meanwhile, freight shipments continue to rise. Between January and May 2014, the transportation industry saw a 13 percent increase in freight.
While Wilson expects to see continued freight improvement, she said she anticipates a few stumbles along the way. She is also anticipating more capacity problems, higher rates and a worsening driver shortage, most of which also affected the industry in 2013.
The air cargo sector made no gains in 2013 as both domestic and international sectors remained unchanged from the prior year. Compared to 2012, the water sector's performance improved, rising 4.5 percent. Ocean carriers continue to expand available space as larger containers ships are delivered, and new alliances and operational controls are improving their balance sheets.
Penske Logistics President Marc Althen, said: "As the economy rebounds, an efficient supply chain can be a major competitive advantage to companies nationwide, as it allows them to deliver high levels of service while simultaneously controlling and often reducing costs."
The "State of Logistics Report®" is available to CSCMP members free of charge as part of their member benefits at https://cscmp.org/member-benefits/state-of-logistics