A&P Australia wins $60 million Australian defence support contract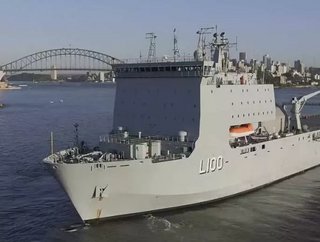 Follow @SamJermy and @SupplyChainD on Twitter.A&P Australia, sister company of A&P Group who are one of the United Kingdoms leading providers of...
Follow @SamJermy and @SupplyChainD on Twitter.
A&P Australia, sister company of A&P Group who are one of the United Kingdom's leading providers of ship repair, conversion and marine services, has been awarded a $60.6 million Commonwealth of Australia Department of Defence contract that will see its A&P Australia operation expand significantly.
The ship maintenance specialists have been awarded the contract to maintain the Bay-Class Landing Ship Dock, HMAS Choules over the next two years with an option for an additional two year period.
A&P Australia has been maintaining the vessel for the Royal Australian Navy since it was acquired from the UK Government in 2011. Before this, A&P Group maintained HMAS Choules (formerly Royal Fleet Auxiliary Largs Bay) since 2008 in its Falmouth yard in the United Kingdom under contract to the United Kingdom Ministry of Defence, as part of A&P Group's support for the RFA.
Work on HMAS Choules will take place in Sydney, with A&P Australia creating around 27 new jobs to service the contract. More than eighty percent of the contract will be supported by the local supply chain.
A&P Group will be calling upon its years of experience in the defence sector to fulfil the HMAS Choules contract and will provide support to A&P Australia in the delivery of its commercial commitments. The A&P group of businesses have been providing support to her three sister ships for the UK Ministry of Defence since 2008.
Earlier this year, A&P Group was awarded a multi-million pound United Kingdom Ministry of Defence contract to complete the customisation, trials, testing and support of the Royal Fleet Auxiliary's new fleet of four Military Afloat Reach and Sustainability (MARS) tankers. These Tide-class tankers are currently under construction in South Korea. The first tanker, RFA Tidespring, is due to arrive in the UK in December 2015. She will be followed by her three sister ships at six-monthly intervals.
Commenting on the contract award, Mr John Syvret CBE, Chief Executive Officer of Atlantic & Peninsula Marine Services Ltd, the parent company of the A&P Group of companies said, "This latest win for A&P Australia is testament to the excellent reputation we have acquired in the defence sector. It builds on the success of our UK RFA cluster support work and reflects our capability and capacity. The expansion of the A&P Australia team is key to the continued growth of the group as a whole and will enhance our international presence. We are now looking to replicate the success of our Australian subsidiary in other projects and in other countries worldwide."
The official contract award ceremony took place on Friday 24th April at the Garden Island Dockyard and Naval Base in Sydney, and was attended by special guests and the respective management teams. The contract was formally endorsed by Mr Paddy Fitzpatrick (Director General Maritime Acquisition of the Defence Materiel Organisation) and Mr John Syvret CBE (Chief Executive Officer of Atlantic & Peninsula Marine Services Ltd).