Air France profits plunge GDP 330m due to pilot strike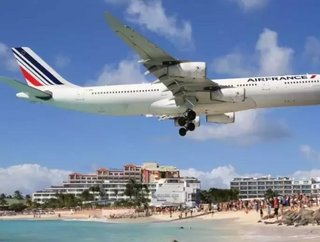 Follow @SamJermy and @SupplyChainD on Twitter.Embattled French flag carrier Air France has announced its third-quarter operating profit plunged 61 perce...
Follow @SamJermy and @SupplyChainD on Twitter.
Embattled French flag carrier Air France has announced its third-quarter operating profit plunged 61 percent after a fortnight-long pilots' strike cost the airline in the region of £330 million in lost sales.
Taking into account the lost revenue during the strike and the knock-on impact of disgruntled passengers staying away in future, Financial Director, Pierre-Francois Riolacci has forcast the impact over 2014 will be in the order of 500 million euros (£393 million).
He said: "We need a few more days to finalise our estimates completely. But we think the impact on the third quarter will be in a range of 320-350 million euros."
Operating profit was £195 million compared with £505 million in the year-ago period, Europe's largest airline by traffic said in a statement. Sales slumped 6.7 percent to £5.28 billion.
Riolacci said knock-on consequences were harder to calculate exactly but warned there would be an impact both on the last quarter of the year and the first part of next year as Air France, Europe's second-largest airline, battles to win back its reputation.
"We made some savings (like in aviation fuel) because the planes were not flying. On the other hand, we had additional costs; putting passengers up, compensation or buying tickets from our competitors for some of our passengers, which we did not always get at the best price." he said.
Pilots at Air France waged the longest strike in the company's history between September 15 and 28 in protest at the group's plans to expand its low-cost subsidiary Transavia France.
The airline sees the development of Transavia France as crucial to compete in the cut-throat world of aviation which has been revolutionised by the arrival of low-cost operators like easyJet and Ryanair.
But the pilots, some of whom earn up to 250,000 euros per year, were worried their flights could be replaced by Transavia services or that the company would seek to use the cheaper Transavia pilots.
The strike knocked out more than 50 percent of Air France services and sparked political fury, with Prime saying the industrial action was harming the image of France abroad.
Air France-KLM said its passenger figures were down 15.9 percent in September compared to the same month the year before.
The wider group (including Dutch airline KLM, Transavia and Hop!) welcomed 5.7 million passengers aboard last month -- a drop of 16.3 percent compared to 2013.
The financial director stressed however that estimating the cost of the strike was an inexact science.
"It is not possible to estimate precisely how much of this decline is due to the strike and how much is due to the disappointing trend in demand we observed at the beginning of summer and later on," he said.
Air France has since launched an advertising blitz to, in Riolacci's words, "get people back into our planes." The cost of this campaign has been included in the 500 million euro estimate.
For more information, please visit: http://corporate.airfrance.com/en/the-company/