5 reasons to start a freight brokerage in 2015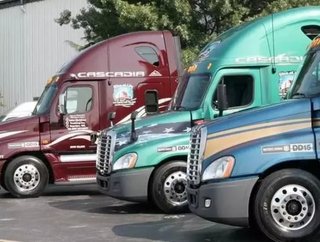 Follow @SupplyChainD on Twitter.For those who have been thinking about opening a freight brokerage in 2015, theres good news. Positive trends in the tru...
Follow @SupplyChainD on Twitter.
For those who have been thinking about opening a freight brokerage in 2015, there's good news. Positive trends in the trucking industry signal that freight brokers will be profitable in the coming years, and that shipping is if anything, a growth industry. Here are 5 reasons to start a freight brokerage in 2015:
1. Truckers are some of the safest drivers on the road
If you decide to go into the freight brokerage business, you'll be relying on some of the most conscientious and rule-abiding people behind the wheel. When weighing the numbers, it's clear that truckers are statistically safer drivers than average motorists. In a study conducted last October and reported on this month, the Commercial Vehicle Safety Alliance found that commercial truckers were ticketed a whopping 90 percent less than non-commercial motorists. According to the study, freight haulers are much more likely to obey the rules of the road and demonstrate good judgment when behind the wheel. If you're looking into freight broker jobs, these are the kinds of reliable people you'll be working with.
2. Petrol is cheap, and fuel efficiency is constantly improving
Anyone with a car has noticed that petrol is cheaper than it has been in years. Crude oil is below $50 a barrel, which according to Time magazine is the equivalent of a $125 billion tax cut. For freight haulers, brokers, and shippers it feels like a welcome subsidy.
However, as sweet as the current petroleum market is it won't last forever. Still, fuel efficiency standards are constantly improving and coming on by leaps and bounds, too. To say nothing of the trucks of the future which will soon revolutionise the industry, mileage is constantly improving. Although the current plunge in prices at the petrol station is temporary, it is a sign of what's to come for truckers and freight brokers; less pain at the pump.
3. The government is working to improve America's shipping infrastructure
Included in the Obama Administration's $4 trillion 2016 budget is an "ambitious construction program" that's going to give American trucking a shot in the arm. The outlays for rejuvenating the US shipping industry will include more than $10 billion for federal highway programs, a doubling of the Federal Motor Carrier Safety Administration's budget (more than $500 million), and numerous other infrastructure improvements to get America's freight movement rolling. The move demonstrates confidence in the ecosystem of freight moving on the part of the White House, so would-be freight brokers can rely on that.
4. The freight shipping industry is growing
This month, in the course of rolling out its 6-year transportation plan, the US Department of Transportation revealed that it sees big things for the trucking industry. Secretary of Transportation Anthony Foxx claimed that trucking is going to grow by 60 percent over the next 30 years. As reported by Fleet Owner magazine, the DoT is going to be responding to this trucking boom by taking a more "nimble, flexible" regulatory approach. Those considering the freight brokerage business can know that they're entering a growth industry.
5. Technology is making trucking easier and safer
Anyone who reads about trucks currently in development may occasionally feel like they picked up a sci-fi magazine. It is not just that the trucks that will soon be on the road, like Mercedes Benz's Future Truck 2025, look more like a Stormtrooper's helmet than a traditional semi. These trucks will have technology that makes trucking one of the safest and most reliable jobs out there.
Benz's Future Truck, for instance, is just one of the vehicles that will be autonomous; the classic dream of a car that doesn't need a driver in order to move. The Walmart WAVE will be more aerodynamic than any vehicle currently on the road. Volvo is currently at work developing what it calls 360-degree technology, which will provide drivers with information about all of their surroundings, in order to make collisions a thing of the past. The countless technologies that will revolutionise driving include vehicle-to-vehicle-communication and vehicle-to-object communication, wi-fi, digital diagnosis, and more.
If you think starting a freight brokerage is for you, there's a lot of work to be done, from setting up the station itself to getting your freight broker bond. However, you can be confident that signs point to a growth period for the industry. Let us know what you think about the present and future of trucking in the comments below.
Todd Bryant is the President and Founder of Bryant Surety Bonds. He is a surety bonds expert with years of experience in helping freight brokers get bonded and start their business.