The ASEAN Logistics Industry is Turning the Tide on COVID-19
4 min
iPrice, Southeast Asia's leading ecommerce aggregator, and Parcelmonitor share their latest report, focusing on logistical strain in ASEAN countries...
When COVID-19 first reared its ugly head, it was Asian nations that suffered from the get-go. In fact, the first reported cases and subsequent social distancing measures were in ASEAN countries, back in February. It was at this point that ecommerce delivery companies suddenly became an essential service provider. They were already used daily across the globe, as a choice, but suddenly entire populations were dependent on the logistical network to get products from supplier to the front door.
As you know, the majority of the global population turned to ecommerce and online shopping for everyday essentials when the pandemic was at its height. It was better safe than sorry, and, of course, incredibly convenient. At the time, ecommerce aggregator, iPrice Group and Parcelmonitor chose to team up and see the impact of COVID-19 on the ASEAN logistics industry. In April, iPrice reported that health supplements, face masks, and canned goods were among the most sought-after products on regional ecommerce websites.
As a result, it became clear that delivery companies must prioritise these products about all others, to ensure that they successfully reach customers on time, regardless of destination and supply chain adversity. It was, of course, an enormous challenge.
Unprecedented Challenges
Parcel Monitor, a global ecommerce logistics community, collected data on delivery speed across ASEAN nations during the pandemic and has revealed exactly how difficult it was for some logistics companies to adapt to the new, COVID-19-disrupted norm.
"The worst impacts of social distancing on ecommerce deliveries were felt in Malaysia, where delivery time rapidly increased from 2.1 days (pre-social-distancing), peaking at 4.6 days (during social distancing). Similarly, in Indonesia, parcels took three days to reach destinations during the implemented social distancing measures, significantly slower than the previous average of 2.3 days."
Whereas, the status quo was a little more normal in both Thailand and Singapore, which successfully locked down their borders before COVID-19 managed to get a hold of their populations. Both countries saw their delivery-times delayed by approximately 0.2 days during the months when social distancing was implemented.
Ninja Van's Data
Ninja Van, an increasingly popular logistics company that services renowned ecommerce partners like Lazada, Shopee, and Zalora, revealed its personal findings over the tougher months of the pandemic. They reported that ecommerce experience a spike in demand, with traffic growing up to 60 percent in April and May alone.
Representatives also shared that some shippers were operating on shorter hours ─ a system that was put in place across most of the world, to help protect the health and wellbeing of employees, for a myriad of reason. As a result, Ninja Van found that they were receiving larger, more bulk-like packages to transport from A-to-B, which sometimes slowed down operations, and definitely affected productivity.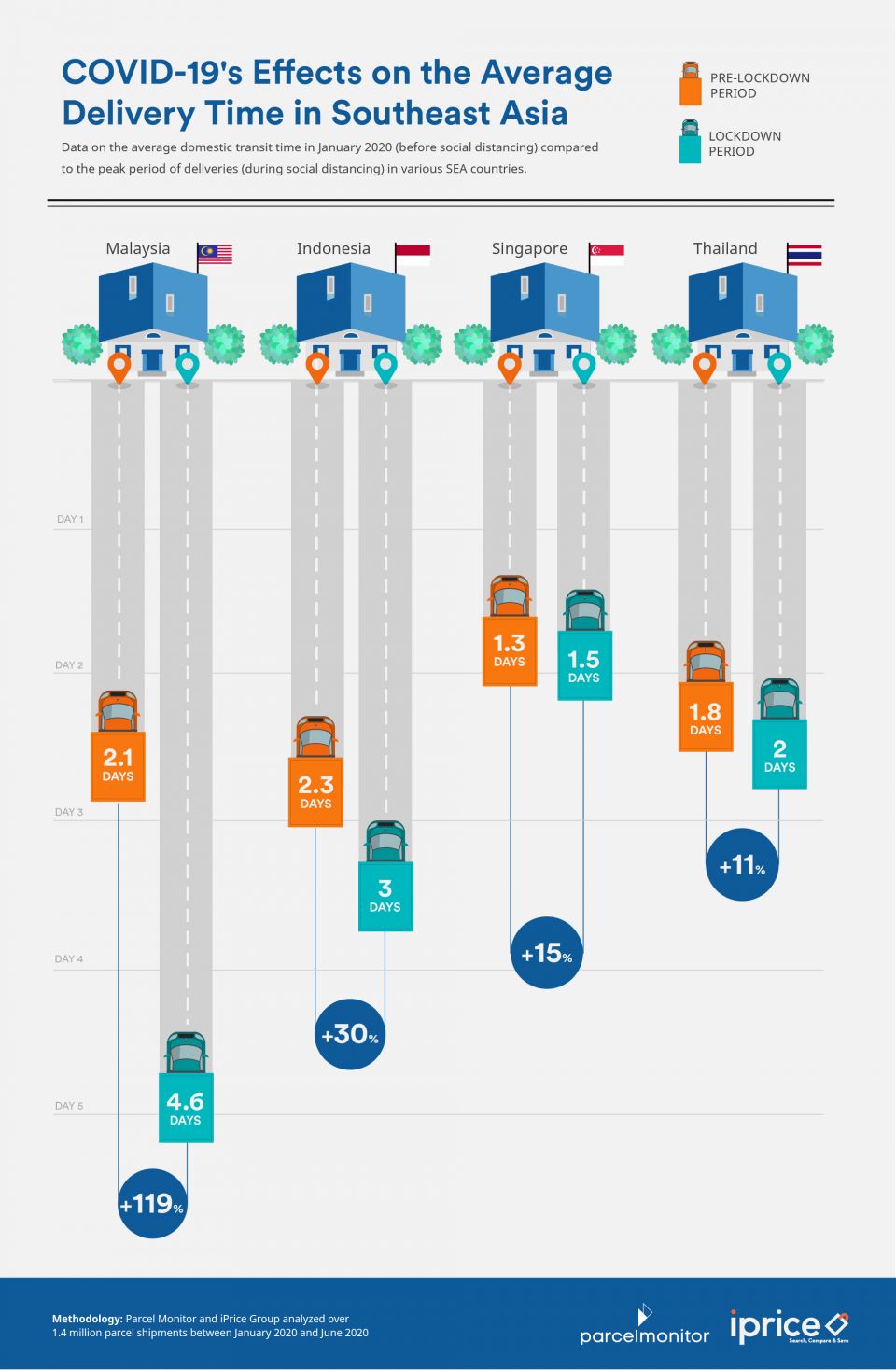 The future, Parcel Monitor believes, is driven by smart solutions ─ the rising usage of parcel locker networks across Southeast Asia. In a world where human contact is now a risky affair, these lockers help to ensure fast and flexible delivery services while minimising direct contact between delivery personnel and customers.
"For instance, the Singaporean government the development of 1,000 parcel locker stations nationwide scheduled for completion by the end of 2021. Meanwhile, parcel locker stations are also in 86 LRT stations in Malaysia, courtesy of Ninja Van and Prasarana Malaysia Berhad's partnership in 2019, whereas PopBox and Box24 brought the same concept to Indonesia and Thailand respectively."
"This will be a delivery trend that will continue to grow in ASEAN as ecommerce logistics in the region continues to mature," concluded Dr Arne Jeroschewski, Founder and CEO of Parcel Monitor & Parcel Perform.
Dr Jeroschewski further suggests that visibility and transparency on the delivery journey will become a key solution to improve the customer experience for both recipients and merchants. "Customers want to know where the parcels are, what's happening to them, and when to expect their orders at their doorstep," said Dr Jeroschewski
"The pandemic has shown that the demand for ecommerce is on the rise and here to stay for the long haul," Dr Jeroschewski of Parcel Monitor offers an optimistic outlook, "there will be many upcoming opportunities for new players in the ecommerce logistics space to take advantage of this growth in ecommerce, and they may offer an even better experience to the customers."
Click to read the rest of iPrice Group and Parcelmonitors report!
Elon Musk's Boring Co. planning wider tunnels for freight
2 min
Elon Musk's tunnelling firm plans underground freight tunnels with shipping containers moved on "battery-powered freight carriers", according to reports
Elon Musk's drilling outfit The Boring Company could be shifting its focus towards subterranean freight and logistics solutions, according to reports. 
A Boring Co. pitch deck seen and shared by Bloomberg depicts plans to construct wider tunnels designed to accommodate shipping containers. 
Founded by Tesla CEO Musk in 2016, the company initially stated its mission was to offer safer, faster point-to-point transport for people, particularly in cities plagued by traffic congestion. It also planned longer tunnels to ferry passengers between popular destinations across the US. 
The Boring Co. completed its first commercial project earlier this year in April. The 1.7m tunnel system is designed to move professionals between convention centres in Las Vegas using Tesla EVs. It says the Las Vegas Convention Centre Loop can cut travel time between venues from 45 minutes to just two. 
Boring Co.'s new freight tunnels
The Boring Co.'s new tunnel designs would allow freight to be transported on purpose built platforms, labelled as "battery-powered freight carriers". The document shows that, though the containers could technically fit within its current 12-foot tunnels, wider tunnels would be more efficient. Designs for a new tunnel, 21 feet in diameter, show that they can comfortably accommodate two containers side-by-side, with a one-foot gap between them.
The Boring Co.'s new drilling machine, dubbed Prufrock, can tunnel at a rate of one mile per week, which is six times faster than its previous machine, and is designed to 'porpoise' - mimicking the marine animal by 'diving' below ground and reemerging once the tunnel is complete. 
Tesla's supply chain woes 
Tesla is facing its own supply chain and logistic issues. The EV manufacturer has raised the price of its vehicles, with CEO Musk confirming the incremental hike was a result of "major supply chain pressure". Musk replied to a disgruntled Twitter user, confused as to why prices were rising while features were being removed from the cars, saying the "raw materials especially" were a big issue. 
Car manufacturing continues to be one of the industries hit hardest by a global shortage in semiconductor chips. While China's chip manufacturing levels hit an all-time high in May, and the US is proposing a 25% tax credit for chip manufacturers, demand still outstrips supply. Automakers including Volkswagen and Audi have again said they expect reduced vehicle output in the next quarter due to a lack of semiconductors, with more factory downtime likely. 
 
Top Image credit: The Boring Company / @boringcompany