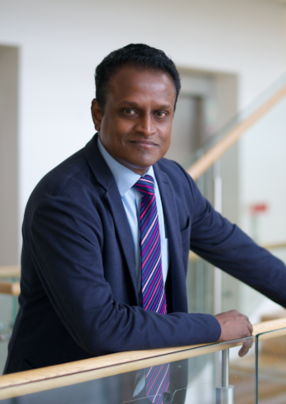 Mano Manikkam
Senior Director, Head of Global Sourcing – Asia Pacific at Visa

Mano Manikkam, Senior Director, Head of Global Sourcing, Asia Pacific, Visa on the payment giant's digital transformation and procurement pivot
Mano Manikkam, Senior Director of Global Sourcing, Asia Pacific, Visa, has successfully helped the payments giant navigate the procurement challenges of the COVID-19 pandemic, accelerated the function's digital transformation and all the while keeping a close eye on their suppliers and key partners.
Visa has faced unprecedented change, as the world transitioned to more digital payments, while also having to manage its own reaction to remote working, supply chain disruption and global shortages. All in a day's work for a procurement leader?
"Over the 20-plus years of my career, I've seen procurement change vastly from initially just being a processing function for most companies," says Manikkam. "Now more of what we see in the industry is procurement functions being closer to the business, and even to the clients, to drive better business value to reach business goals."
Manikkam's scope covers the whole spectrum of procurement in 22 markets in Asia Pacific across all spend categories, working with diverse suppliers at a localised level.
Manikkam's career started as a consultant and he worked his way towards middle management in consulting and then switched over to the corporate world on the client side. That has seen him work across multiple regions – in the US, in Europe and also in Asia – and in global companies across multiple industries and sectors.
It has been a solid career path, with foundations formed performing military National Service duties in Singapore.
"I spent three years in the Singapore army as a commissioned army officer within the 1st Commando Battalion," he recalls. "It taught me a lot of things, especially leadership skills, self-discipline and development in my mental and physical endurance. I was put in situations where I had to react quickly, think out of the box and also overcome to deliver outcomes. So now when I'm in the corporate world and face similar challenges – people challenges, organisational and transformational challenges, operational challenges – what I have gained from those learnings has been very helpful for me."
It has been a turbulent time for Visa, as it has for all global organisations, coping with an unexpected crisis and accelerated change, and Manikkam admits his team has learned a lot from the experience as they have adapted to a new way of working.
"Our focus hasn't changed," says Manikkam. "We have learned a lot from the past 12-18 months and we are ready and prepared to apply those learnings as we move forward.
"We shouldn't be shy of trying new ideas, new ways of doing things, new strategies – especially in regions like Asia Pacific where it is very fragmented and government and regulatory guidance are changing on a regular basis. We need to ensure that we stay close to our supply market, understand them, understand how they are impacted by regulatory changes and react accordingly to get the best for Visa."
Read the full story HERE.