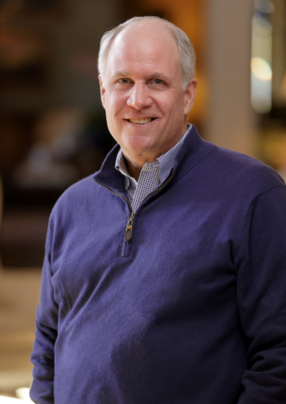 Jonathan Colehower
Global Supply Chain Strategy Practice Lead, UST

Jonathan Colehower, Global Supply Chain Strategy Practice Lead at UST, on how adopting technology can increase visibility and resilience in supply chains
"I've been in supply chain for 25 years and it's never been sexier than it is right now," says Jonathan Colehower, Global Supply Chain Strategy Practice Lead at UST. "Everybody wants to talk about it, so I think it's up to people like me to say great, let's make sure we don't stop this conversation."
Colehower will be the first to admit that if you've never heard of UST and don't know "the best-kept secret in IT", you're not alone. He was in a similar position when a recruiter called him in 2021 to discuss joining the global IT service provider after a career working for leading consulting firms Accenture and McKinsey.
Despite its low profile, UST has been established for more than 20 years, has a billion-dollar-plus valuation and employs some 28,000 experts worldwide.
"I have spent my entire career in supply chain management either into one or two areas in management consulting or in technology, " explains Colehower. "I spent seven years with Accenture in the supply chain strategy practice, and I also spent time at McKinsey & Company doing supply chain and operations strategy formulation. I also spent about five years at Oracle running the supply chain applications line of business and, most recently, was the chief marketing officer at Manhattan Associates."
It's an impressive track record, so what made Colehower take the plunge and decide to move to UST? Like so many consultants who are leaving the industry, Colehower wanted to be more involved in an organisation and have the chance to implement the ideas he came up with. With a family to consider, it was also a challenge having clients around the world – at one time spread across London, Hong Kong, Johannesburg and Brazil.
"I've always wanted to build and manage a supply chain management practice, and so when the opportunity came around I thought 'wow!' – maybe this is my opportunity," he says.
Opportunity came knocking and Colehower joined UST in September 2021, at a time when, frankly, global supply chains were in a mess. After decades of focus on global sourcing and successfully improvising efficiencies and driving down costs, COVID happened. And that shockwave continues to reverberate. The question is, did we push our luck, and was a shock like this inevitable, and the fallout avoidable?
"When I look at the work that we've done in supply chain over the last 20 or 25 years, we've done some really, really good work, and created very lean, efficient supply chains – almost ridiculously efficient. What I don't think we really considered along the way, was are they resilient? Can they withstand a shock?" says Colehower.
"We became so fascinated with lean Six Sigma black belt, so on and so forth, that we lost sight of the fact that these things really could take shocks and what are we going to do when that happens? I think that the unimaginable happened and the lean supply chains were not able to respond.
"It worries me, because all that great work we did, I don't want it to go away. I don't want manufacturers to overreact and just pick up offshore manufacturing and all the great things that we've done to return to domestic manufacturing and building up inventories. I just don't think that those are going to be beneficial in the long term."
Colehower believes that global supply chains will rebound but that executives are going to be looking beyond lean and also demanding resilience. Technology will provide more simulation and game theory to test resiliency, using digital twin tech to model and see what happens "when you throw a rock at it".
Read the full story HERE.