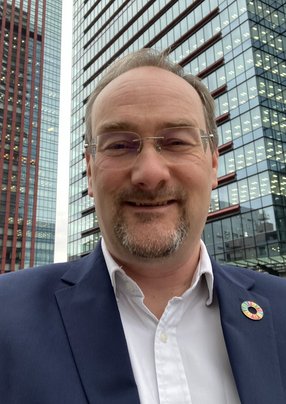 John Wilgar
Chief Procurement Officer at NSG Group

John Wilgar, Chief Procurement Officer at NSG Group, leads an increasingly sustainable procurement function targeting emission reduction and diversity
There are leaders boasting strong backgrounds in industry-specific procurement; then there are those that can apply this background on a much wider scale. John Wilgar, Chief Procurement Officer at NSG Group, comes from a background in automotive, having worked for General Motors (GM) in the procurement and purchasing role.
Moving on from his role in automotive, Wilgar joined NSG, where he has spent the last 20 years providing the necessary expertise to deliver products and services in a timely, and increasingly more sustainable, fashion.
A major area of his role in the procurement team is to deliver the company's unique approach, which is governed by the five pillars of Transformation: digital transformation; talent and diversity; organisation design and operating model; sustainability; and real-estate and workplace design.
While much of the strategy must comply with the company's efforts to minimise costs, the inherent sustainability changes are also critical in Wilgar's role as they come into contact with all areas of the business. This also has knock-on effects up and down the supply chain, which is another area of interest for the procurement function.
"The role has changed a lot since I started in procurement 30 years ago," says Wilgar. "It really is at the centrepiece of transformation for many businesses."
"The traditional view of procurement has been around managing the cost, supply chain, and so on. All of these things remain very important, especially where procurement costs are 50% to 60% of the company's overall turnover."
A lot of Wilgar's role is also driven by the innovation in the industry, not just of procurement technology, but the developments that take place among its suppliers and customers. During his time at NSG, Wilgar has seen the adoption of the Science-Based Targets initiative (SBTi), which he hopes will allow the organisation to facilitate a real change in emissions as it addresses its climate impacts.
As he learns more about the procurement capabilities of NSG and the available solutions to support its sustainability agenda, Wilgar is looking at the future in a different way, focusing on these as some of the primary issues that were otherwise undervalued against traditional procurement drivers.
"I see the impact below the waterline as more important. This emerges into areas such as innovation, sustainability, Scope 3 emissions reduction, and also driving our talent agenda." says Wilgar.
"That's really where procurement is going to add the most value and have the greatest impact moving forward."
Wilgar's approach to the company's strategy moving forward will encompass sustainability across all of its pillars, while also considering the impacts of its suppliers and how it can support them to fit into its sustainability strategy.
Read the full story HERE.
"People are always at the centre of client conversations because they are the lifeblood of all companies"