Watch now: Plug cost leaks with end-to-end visibility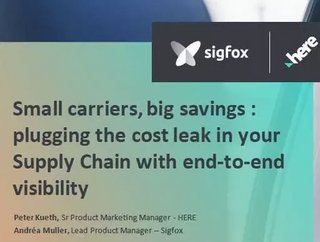 HERE Technologies and Sigfox webinar explains how carriers can plug cost leaks in supply chains with end-to-end visibility from smart tracking technolog...
An insightful live webinar hosted by Supply Chain Digital and featuring HERE Technologies and Sigfox is now available to view on demand.
The webinar, entitled Small carriers, big savings: Plugging the cost leak in your Supply Chain with end-to-end visibiity, explained how carriers of all sizes can make significant cost savings and improve efficiency by using the latest tracker technology developed by Sigfox and HERE Technologies.
Peter Kueth, Senior Product Marketing Manager at HERE Technologies, and Andrea Muller, Lead Product Manager - IoT Data at Sigfox, explained how the Atlas Wifi trackers work, the benefits of this solution over GPS, and provided real world case studies from DHL and PSA Groupe.
Muller explained how the misplacement of returnable industrial packaging (RIPs) like trolleys, containers, pallets and roll cages causes these cost leaks, with up to 10% of them being lost or stolen each year, resulting in expenses, delays and lower productivity.­­
In one example that Muller shared, a customer had saved €12 million in a year by implementing these trackers. As well as being cost efficient and based on existing infrastructure, battery life on the trackers can be up to seven years.
Kueth said that as well as the significant direct costs of replacing the returnable packaging, and the knock-on effects of disruption, there is also the potential damage to your business reputation.
The free webinar is now available to view on demand. Discover how real-time insight and end-to-end visibility can improve efficiency in your supply chain.