UPS and The Golden rules of retail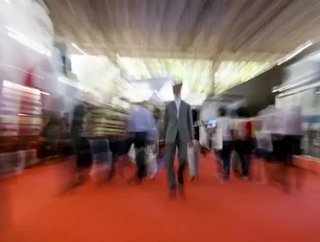 Failing fast, deploying minimum viable products and pivoting when necessary are what most entrepreneurs consider standard protocol these days. Much of t...
Failing fast, deploying minimum viable products and pivoting when necessary are what most entrepreneurs consider standard protocol these days. Much of this lean startup methodology has crept its way into the corporate world. We see the effects of this mindset in companies' logistics strategies across multiple industries, with many e-commerce giants racing to provide more goods to more people — and faster.
With delivery speeds increasing and new technologies on the horizon, consumers' expectations for same-day deliveries and custom delivery experiences will only continue to rise. As a result, millions of small- and medium-sized retailers feel left behind. Current trends raise a significant question for these businesses: Are retailers rushing too quickly into possible solutions — some of which are tied to technology — instead of thinking first about their customers' needs?
For many, the answer is yes. To compete with their established online counterparts, many retailers are latching on to new technologies that may be quick fixes but aren't good for their customers in the long run. Failing to understand customers' needs is one of the biggest contributors to product and service failure. Fortunately, there are ways to compete in today's rapidly changing environment while embracing trends in final-mile delivery.
As the manager of the UPS Access Point Network during the program's beta test, I talked to business owners and consumers every day. I quickly learned that both groups are struggling in today's retail environment. To thrive in an ever-changing world dominated by the Internet of Things, business owners should focus on the following three friction points found in most retail business models.
Make Delivery Convenient for Your Customers
Demand for package delivery away from the home is strong. Each day, UPS delivers tens of thousands of packages to UPS Access Point locations, and consumer surveys show that 35 percent of people buying products online prefer delivery to a location other than their home. Many of these people live in apartments or high-rise buildings in urban areas and aren't home during weekday business hours. However, it's not just being away from home during delivery that's driving the shift to alternative locations.
Regardless, consumers want specific purchases delivered to specific locations. What if Robin wants a dozen pink scarfs delivered to a Susan G. Komen fundraiser at a park across town or Tristan wants a present delivered to a local pub for a birthday party? Both of these buying experiences require alternative delivery locations but for different reasons. But neither of the customers would choose the retailers' brick and mortar stores (or their homes, even via courier) as their preferred delivery location for these specific purchases if other options were available to them.
Failing to understand customers' needs is one of the biggest contributors to product and service failure.
Don't Outthink the Process
As more people look to alternative delivery locations and same-day delivery, most retailers still don't fully understand why customers are straying from the normal delivery process and how their needs may change from one purchase experience to the next. Technology is enabling new solutions before the customer need has been fully defined.
As a small business owner, it's imperative to fully understand the buying experiences across various customer segments and how to be included in the consideration set every time. Don't overwhelm your customers by trying to force selfies, social media apps, or the latest payment trend into the buying experience — focus instead on your customers' needs and the best way to meet those needs.
Don't Jump at Every Chance to Change the Customer Journey — Consider Selective Changes
When drones are eventually approved for commercial use, it's doubtful they will help most small retailers. But with so many people now using wearables, such as a Fitbit or an Apple Watch, there may be new opportunities. Retailers may work with a logistics company to combine data from these devices with geo-location capabilities, developing a flexible delivery service, and when combined with near-field communication, retailers can enhance their customers' omni-channel shopping experience.
Speak with your customers that own a wearable device and learn how they use them. In addition, consider investing in a wearable device and see if there are new ways you can help your customers.
The retail space is changing at a rapid pace, and small businesses face an uphill battle when competing in a market dominated by big data. Small business owners should embrace their customers' needs and the unique experience they can provide — both in store and within the delivery experience — to delight customers. In today's hyper-competitive retail environment, failing fast may be the mantra of most companies, and for the most part, that mindset is typically appropriate. However, retailers must not lose sight of their customers' needs when experimenting with the customer journey.
The January issue of Supply Chain Digital is live!
Follow @SupplyChainD on Twitter.