Top Ten: Supply game changers - from Industry 4.0 to Covid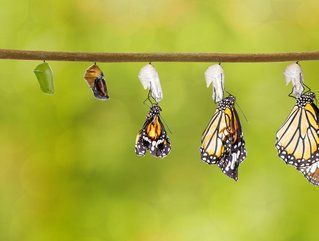 The pandemic, sustainability, blockchain - and a raft of Industry 4.0 techs like IoT - are changing the face of supply chain forever
Disruption and rising global and national tensions - as well as changing customer expectations - have prompting brands to reimage their supply chains, in order to grow more efficient, adaptable and resilient. Here, in descending order, are ten factors that are continuing to influence the nature of supply.
10. Process mining
This is an analytical discipline for identifying, monitoring, and improving processes using data from performance logs that are readily available in today's information systems. Process-mining tools provide means to audit, analyse, and enhance existing operations by providing objective, fact-based information generated from the transactional data that supply chains generate and utilise.
9. Augmented reality (AR)
AR in the supply chain helps speed up the production process - reducing the downtime of machines, minimising in-house costs, and contracting the sales process. It's now widely used by organisations to increase worker engagement and to enhance productivity.
Smart glasses armed with AR tech, for example, help on-site decision-making by offering access to schematics, procedures, instructions, and maps.
8. Virtual reality (VR)
This improves supply chain operations in four areas: Data and process visualisation; employee collaboration; product and process design; and experience-based learning. VR allows customers to interact with products and change designs in real time via their devices. Once happy, the configured order is released immediately to the respective manufacturers, suppliers, and distributors that provide them.
7. Automation
The pandemic has posed many new problems for businesses but has also magnified some that already existed - such as a lack of warehouse staff. With the e-commerce boom warehouses can be stressful and dangerous working environments, plus the pay isn't brilliant. Enter automated tech such as Autonomous Mobile Robots (AMRs). AMRs work collaboratively with warehouse staff, moving stock, picking, retrieving and replenishing. Automated Storage and Retrieval Systems (ASRS), meanwhile, deposit and retrieve loads from defined areas.
6. Blockchain
Blockchain is a decentralised, shareable, and unchangeable transaction database. Although many supply blockchain applications are still pilot programs - mainly in smart contracts, traceability and verification - there are ever more examples of blockchain becoming embedded in the supply chain. In the energy sector, for example, blockchain is used to track oil from well to customers, recording transactions as it goes.
5. Internet of Things (IoT)
The IoT can collect data from millions of devices across the supply chain and measure performance in real-time, across operations, manufacturing and production. This gives transparency and control of the ETA of goods, the storage conditions of raw materials or perishable products and can also help with streamlining processes
4. Cloud computing
IoT devices and smart systems generate a lot of data, and it has to be stored somewhere. That's where Cloud computing comes in. It facilitates enhanced responsiveness to supply chain disruptions, giving a 360-degree view of supply chain activities, accurate real-time data and the capacity to connect everyone in the supply chain, from manufacturing workers to delivery drivers.
3. Sustainability
Environmentally friendly supply chain changes are becoming all-encompassing, because most countries in the developed world have enshrined in law the commitment to be net zero on carbon emissions by 2050. Besides, customers now expect products to be green and processes sustainable. For proof of this, look no further than Unilever. Sustainable products account for 70% of the company's revenue growth.
2. Covid-19 pandemic
The disruptive impact of the global pandemic has changed the face of how the supply chain works, particularly for retail and consumer goods, which experienced a seismic shift away from bricks and mortar consumption to e-commerce. Omnichannel is now de rigeur, and supply chains are changing to reflect this, becoming more responsive and reactive.
Disruption is also changing manufacturing supply chains, with an increasing number of businesses looking to reshore and nearshore production, in order to reduce exposure to risk.
1. Digital transformation
Many of the items in this list fall under the broad umbrella of digital transformation. Digital transformation is an approach - a mindset, almost - and tech is the means to make it happen. Although underway before Covid, the pandemic has accelerated this transformation process, with businesses looking to increase resilience and mitigate risk. Digital transformation helps companies identify both risk and opportunity.