Top 10: Supply chain innovators through history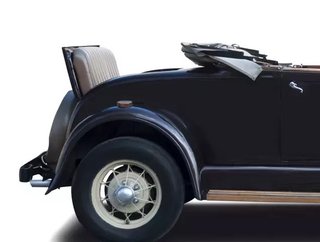 Shipping containers, the barcode, mass production, lean manufacturing - all of them changed supply forever, and here we salute the men who gave us them.
The pattern of progress in virtually any endeavour is usually marked by long periods of steady improvement, interspersed with revolutionary new ideas and practices that result in step changes. Supply chain is no different. Right now, we're seeing just such a step change in supply chain, with the adoption of industry 4.0, and 5.0 technologies. Here, we look back at the pivotal innovators who down the years have been responsible for breakthrough moments that had a seismic impact on the nature of supply. 
10. Keith Oliver, logistician
While Oliver didn't impact the way supply chains run as such, he coined the term 'supply chain', and in so doing changed forever the way the wider world thought about supply. Before this, supply was a nebulous concept but Oliver enshrined the idea of it being an ecosystem of interconnected parts. He also defined the term 'supply chain management', as a concept spanning "all movement and storage of raw materials, work-in-process inventory, and finished goods from point-of-origin to point-of-consumption".
9. Frederick Taylor, mechanical engineer
Frederick Taylor was an American mechanical engineer who pioneered mass manufacturing in the late 1800s. He developed the concept of time and motion studies on the factory floor, and the idea of 'standard times' for completing specific activities. Later, the principle of incentive systems and piece-rate compensation schemes was created. Taylor's ideas forever changed manufacturing practices, and heralded the beginning of supply at scale. 
8. Roy Mayeske, transportation executive
In 1982, 3M, like all businesses at the time, delegated transportation operations to each of its plant and distribution sites. Back then, Roy Mayeske was Executive Director of 3M Transportation, and it was Mayeske whose idea it was to unify all 3M's transport systems in order to find network efficiencies. 3M bought-out Schneider National's mainframe software, to augment the change, and shipments were then called in by ship sites, and carriers and routings were called back. Before long, the practice became commonplace, and went on to be be known as Life-cycle Costing (LCC). Mayeske is still with 3M, as Executive Director Transportation.
7. Andre Martin, operations executive
When Andre Martin was handling operations for Abbott Labs in Canada in the late 1970s he found himself sandwiched between production and distribution executives, none of whom seemed to have any kind of grip on inventory. So Martin built the first computerised distribution requirements planning (DRP) system, and several tech companies went on to build models based on these concepts. It was the birth of today's supply chain planning software industry.
6. Henry Ford, automotive pioneer
Ford was not a supply chain figure per se but as one of the founding fathers of mass manufacturing he was responsible for reshaping industrial processes worldwide, and with it, the way mass-produced products needed to be moved. Ford's inspiration came from a visit to a meatpacking operation, where he took note of their assembly-line strategy, going on to apply the same approach to the manufacture of his Model T car in 1913. He cut per-car production time from 12.5 hours to 93 minutes.
5. Ford Whitman Harris, production engineer
Harris was an American production engineer whose razor-sharp mind would forever change the way inventory was managed. He was born in 1877 and grew up in Portland. After high school he worked for four years as an engineering apprentice and draftsman for Belknap Motor Company and the Maine Electric Company. It was around this time that Harris formulated the idea of Economic Order Quantity - a method for estimating the most cost-effective amount of items to purchase from suppliers, based on costs. His idea was widely adopted after it was published in the Harvard Business Review in 1934. Harris's ideas serve as the foundation for much of today's supply chain decision-making.
4. George Laurer, electrical engineer
#Where would be without the barcode (or Universal Product Code - UPC) , to give it its official name. Supply chain would certainly be in a very different place. The UPC was the brainchild of George Joseph Laurer III, an American engineer for IBM in North Carolina, US. The UPC was among 28 patented ideas he developed for the company. He based the idea on an earlier concept of the barcode, developed by US inventor, Joe Woodland. The UPC was first used in 1974 at a Marsh's Store in Ohio, US, and the rest is history. Today, it's not just supermarkets that benefit from UPCs - they are a bedrock of smooth-running supply chains everywhere, being used for tracking and inventory management.
3. Eiji Toyoda, automotive pioneer 
Back in the 1950s, when Toyoda was CEO of Toyota, he visited a number of car makers in Detroit on a fact-finding mission. Toyoda was appalled at the amount of waste and lack of innovation he saw. So appalled that when he returned to Japan he cut back on excess inventory and ordered components and spares only when needed. The result was efficiency savings that propelled Toyota up the auto-makers league table, past American car makers who were rooted in the past. Toyoda recognised that just-in-time (JIT) manufacturing can cut costs and increase efficiency, and it has remained largely unchanged since. Companies like Apple have grown fat off the JIT supply model.
2. Sam Walton, retail entrepreneur
Walton founded Walmart in post-war US and is credited with transforming the retail industry, by revolutionising supply chain management. Walmart would never have grown from a small-town operation into one of the world's largest companies without him. Walton changed supply chain management in three ways: he developed a direct supply chain for his retail stores and commissioned new supply chain technologies. He never stopped seeking supply chain efficiencies, and this approach is still at large in today's Walmart, who viewed the pandemic not as a threat but an opportunity to grow even bigger.
1. Malcolm McLean, logistician
In 1956 a patent was granted to US logistics businessman, Malcolm McLean for his 'intermodal shipping container'. McLean's invention would go on to revolutionize transport and international trade in the second half of the twentieth century. Containerization led to massive savings on freight transport, by removing the need for multi-staged handling of individual cargo items, and cut inventory costs by shortening transit time. Containers also improved reliability and cargo security. Today, there are around 17 million shipping containers in use globally. The number of containers at sea at any one time is said to be roughly 5 million, while 200 million container trips are made every year.