Digital supply chains 'key to new business future' - Loseby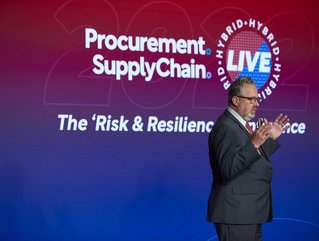 David Loseby, pictured at last year's Procurement & Supply Chain LIVE event, where he spoke about the importance of people in any digital transformation project.
Supply chain thought leader David Loseby's paper stresses digitalisation of supply chains is key factor in creating a more collaborative business world
Supply chains will play a pivotal role in shaping a more collaborative future, both societally and commercially, says a leading supply chain academic.
But supply chain thought leader and behavioural scientist David Loseby adds that such an outcome is contingent upon the digitalisation of supply.
Loseby's paper – 'Supply chain disruption, resilience and recovery' – was written on behalf of the Centre for Operations and Supply Chain Research (COSCR), a multi-disciplinary research centre dedicated to operations & supply chain management research and advancing managerial practices.
"The paper explores the value of bringing academic research to the business domain, to inform future strategic direction," Loseby explains. "It takes into account lessons learnt during the pandemic and, more recently, geopolitical instability."
His key findings are that digital adaptability has "an indirect impact on digital agility, which in turn has a positive and significant effect on supply chain".
Loseby also stresses stakeholder collaboration – especially consumers and producers – allows for quality data capture, which, he says, is to everyone's benefit.
Loseby says: "The relative stability we've enjoyed for many decades is no longer possible, and we must adapt to a different work paradigm.
"The need for greater adaptability and flexibility is not merely a new experience that will soon disappear.
Supply chain collaboration 'will create quality data'
"Without radical collaboration, both socially and in a business context, we'll see not only a loss of economic value but also social degradation."
He adds: "Supply chain disciplines have a pivotal role to play in mitigating and potentially turning these challenges into opportunities.
A key part of this, he says, is the digitalisation of supply chains, which "will create a digital ecosystem that will allow us to understand our supply chains in a dynamic way.
But Loseby warns that, to be meaningful, digitalisation must take an open architecture approach, and people must understand that contingency and continuity planning "are an ongoing activity and not just for pandemics".
"Digital transformation is an ongoing process, not an end point," he concludes.