Supply chain tech 'stronger on resilience than on ESG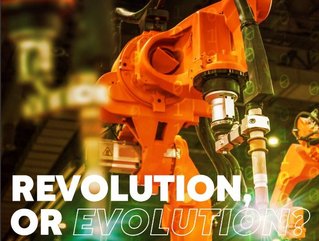 Although Industry 4.0 technology is working wonders in many areas, Leanne Melnyk -- Head of Global Supply Chains at Diginex -- feels it is yet to make an impact in other areas, such as corporate due diligence.
Industry 4.0 tech is helping to make supply chains more resilient, but there are also areas in which it needs to improve, such as ESG performance
There's probably not a single supply chain professional on the planet who has failed to utter the words 'visibility', 'resilience' and 'agility' over the past two tumultuous years.
In striving to bring these qualities to their supply chains, organisations have turned to Industry 4.0 technologies such as Artificial Intelligence (AI), Machine Learning (ML) and the Internet of Things (IoT). Such tech is reshaping the way businesses operate in a world of uncertainty and disruption.
Leanne Melnyk is Head of Global Supply Chains at Diginex, a blockchain-enabled SaaS solution for ESG reporting. Asked how Industry 4.0 tech is helping organisations build supply chain resilience, she says: "Since the dawn of Industry 4.0, there's been maturation of transparency in supply chains."
Melnyk adds that, with increased focus on environmental and social risks, the demand for transparency "is extending into the upstream parts of a company's supply chain", and that this means "more data will need to be collected from multiple actors, including indirect suppliers and workers".
"This increases supply chain resilience, because the physical is connected with the digital, which opens up new pathways and provides real-time information and visibility into processes and operations at all levels."
Striking examples of Industry 4.0 at play in supply chain
There can be no doubt that Industry 4.0 technology is revolutionising the way that business is done, and Melnyk can point to outstanding examples of innovation in the ESG space. One such example is a Diginex customer, Tat Win – a major manufacturer of latex.
"Tat Win is an upstream partner in complex supply chains that produce end products such as medical PPE, as well as consumer goods, such as balloons and adhesives.
"There was significant responsibility on it to ensure supply chain transparency for its end consumers, including around the protection of rights for vulnerable groups of workers.
"Using our blockchain solution, Tat Win has visibility on the recruitment and employment of migrant workers – from their countries of origin to their place of work – so is able to proactively address risks before they escalate."
She adds: "The data and information collected allowed Tat Win's team to put in place action plans to strengthen policies, management systems, due diligence and remediation practices."
Outside of Diginex's customers, Melnyk cites another outstanding example of Industry 4.0 innovation: the case of ESG transgressions aboard the bulk carrier, Fortune Genius.
When Fortune Genius entered Australian waters, the International Transport Federation (ITF) – the global union for shipping – carried out a digital inspection. Thanks to its tech-based grievance channels, the ITF learned directly from the vessel's Burmese crew that they had been forced into working excessive – and unpaid – hours. It was, in essence, forced labour.
"The ITF multilingual app has SMS and hotline number, Facebook page and Seafarer centres. It's a powerful illustration of how multistakeholder due diligence systems, underpinned by technology, can effectively detect and remediate labour issues in supply chains," says Melnyk.
Aerospace manufacturing a hotbed of tech innovation
Another executive who has seen some outstanding deployments of Industry 4.0 tech is Evan Sloss, Director of EMEA for iBASEt, a company that simplifies complex manufacturing with digitally-integrated solutions. According to Sloss, complex manufacturing is one area in which technology is making a huge contribution.
"Aerospace manufacturers are using Industry 4.0 technology to keep pace with the rapid changes required during production, sometimes right at the last moment," says Sloss. "The sophisticated nature of space technology means that production processes often require sudden amendments due to new engineering designs and updated project requirements.
"When this happens, production-line equipment can send triggers to automated carts to find and load smart pallets and then deliver them where needed. Replacement supplies can then be automatically ordered from the inventory system. In many cases, this complex chain of actions can be managed without any human input."
Industry 4.0 tech 'falling short on ESG due diligence'
Although tech is working wonders in many areas, Melnyk feels it is yet to make an impact in others, such as corporate due diligence. "Transparency on due diligence has not progressed as quickly as it should have," she says. "Much of this is because of the absence of scalable due diligence systems that can touch the entirety of the supply chain."
Melnyk cites a 2020 report published by the European Union, in which just 36% of surveyed companies said they publicly disclose the processes they follow to prevent human rights risks and violations throughout their supply chains – and that even fewer follow such protocols when it comes to upstream.
"Such ineffective monitoring can be solved through a combination of stronger mandatory due diligence legislation and new technology, including the use of blockchain.
"Until recently, the highly analogue nature of the upstream part of global supply chains meant most companies were relying only on social audits to identify risks, whereas supply chain due diligence calls for a stronger combination of smart measures, including engagement with stakeholders, proactive monitoring and target setting."
Melnyk points out that although the market for socially responsible supply chain tools is expected to reach US$2.7bn over the next five years, "many supply chain tools have carried over the same problems that exist with social auditing".
She adds: "Most business tools are designed for large brands and cost around $30-$50,000 per year on average. And, while there are tools that focus on upstream actors in the supply chain and others that focus on workers, very few create a tailored end-to-end due diligence journey for all partners."
This, she says, means that today's digital tools can miss "hidden" agents, such as subcontractors or lower-tier suppliers. "We need affordable and scalable tools that cater to downstream and upstream companies and workers, and that provide relevant data for all parties," she stresses.
Industry 4.0 tech & supply chain cybersecurity concerns
Another area in which many feel leading-edge tech has a way to go is around cybersecurity. Cybercriminals are known to target supply chains to gain 'back-door' access to multinational targets upstream.
A recent report from consulting firm Capgemini highlighted this, suggesting Industry 4.0 tech is leaving smart factories open to cyberattack and that action is urgently needed. Sloss, for one, agrees that organisations must be wary of the vulnerabilities that come with technology.
He says: "Industry 4.0 brings a lot of benefits but an increasingly connected factory producing more and more data also increases the potential attack surface for criminals to try and exploit,
"Manufacturers must be aware that this means cyberattacks are a much more realistic threat than ever before."
This is followed up by Sloss asserting that, to combat this risk, businesses need a strategic approach to security. "At a fundamental level, they need to establish private networks within the wider system so they can isolate areas, divide the network flow, and keep end-users and mission-critical applications separate," he advises.
For her part, Melnyk feels that, deployed properly, blockchain has the capability to counter cybersecurity risks. "If everyone in the supply chain knows who the other players are, then a cyberattack on one part doesn't necessarily mean everyone goes down with them," she says. "So, if an attack were to happen, it could remain isolated at that point in the supply chain."