SAP: Santa's five steps for a successful supply chain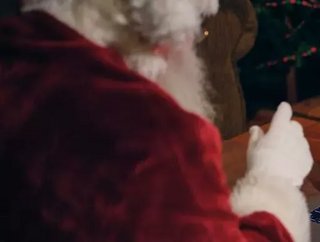 With just 21 more sleeps till Christmas, SAP had a chance to speak to Santa himself to discuss the most successful supply chain story of all time...
With his keen eye for target markets, near-perfect order rating, global distribution channels, and unique delivery model, Santa is set to face his biggest challenge yet - maintaining a successful operation during the global pandemic.
Taking time out of his busy schedule, Santa spoke with to discuss his top five steps to ensure that Christmas remains magical while ensuring everybody is safe.
Capturing actual demand via digitalisation
Speaking with SAP, Santa explains that like the rest of the world he is working from home and taking important virtual calls through the use of video conferencing platforms.
Santa has confirmed he will still have face to face meetings; these will be reduced this year, with social distancing measures in mind. As always, Santa is receiving 'wish list' letters via the traditional method; however, like many other organisations around the world, he has also gone digital with an online option available too. 
Even though Santa is hundreds of years old, he can still keep up with the latest trends. Other ways you can contact Santa include Facebook, Twitter and via email at . 
Did you know? After 108 years of operations, the US Postal Service's 'Operation Santa' campaign has gone digital. Fulfil a child's wish this year in four easy steps via the .
Customer segmentation
When it comes to customer segmentation, Santa explains to SAP that traditionally, his customers are segmented into two groups - Naughty and Nice. With to keep a record of in his customer database, Santa has adopted a cloud database approach to flexibly manage continuously changing data. 
Employee safety
Whilst perhaps not a standard location for a global manufacturing centre, Santa's elves in the North Pole have been working hard while quarantined in their 'bubble'. 
To ensure that all elves remain safe while working, Santa has installed a network of sensors in the factory that leverages artificial intelligence (AI) to take their temperature, and he has provided them with wearable sensors to trigger an alarm if they get too close to another worker. 
Supply chain safety during distribution
After extensive testing, Santa confirmed to SAP that when it comes to his Chimney delivery model, the unique approach is perfect for a socially distanced supply chain.
Due to regulations, factories at the North Pole - like many others around the world - have had to operate with a lower capacity of workers than usual, make significant investments in procuring personal protective equipment (PPE) and redesigning the shop floor to accommodate social distancing measures.
One industry trend that Santa is adopting in his own factories is the use of machine learning (ML) algorithms to analyse real-time data to know how many elves are allowed in an aisle at a specific time, allowing tasks to be scheduled accordingly.
On the big day, Santa will be sanitising his hands and sleigh to ensure that he doesn't bring any germs to the households he visits, while his eight flying reindeers have been put into their own 'bubble' until Christmas Eve.
Intelligent toy production
Finally, Santa explains to SAP how he and his elves are leveraging industry 4.0 technologies to design and manufacture smarter gifts with built-in sensors that create digital twins. By harnessing this technology, Santa has greater visibility on how he can best serve and provide maintenance throughout a toy's lifecycle.
Outside of the factories, Santa has adopted the use of predictive maintenance processes with IoT sensors to determine the overall equipment effectiveness (OEE) of his sleigh, tracking performance, temperature and calibration of key parts and components.
For more information on procurement, supply chain and logistics topics - please take a look at the latest edition of .