SAP report: supply chains shifting to 'just in case' model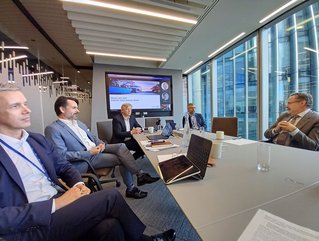 From left to right: Stephane Crosnier, Accenture; Simon Skinner, Michiel Verhoeven, Shaid Latif (all SAP); Ian Truesdale, Unipart Group
SAP UK report shows that, in the face of supply disruption & uncertainty, most organisations are moving away from just-in-time inventory to just-in-case
Most organisations are looking to change the very nature of their supply chains in the face of ongoing global disruption, new research from SAP shows.
The SAP study shows that over half (58%) of UK organisations admit their supply chain needs improving and that the majority (84%) are planning to move from well-worn 'just in time' (JIT) supply chain models to a tech-driven 'just in case' (JIT) approach.
Speaking to Supply Chain Digital at the press launch of its report, SAP UK & Ireland Managing Director Michiel Verhoeven said that, where once supply chain management was mostly about cutting costs, businesses are now faced "with the challenge of staying ahead of consumer demand, while improving resilience, cutting carbon emissions, reducing staff churn and keeping costs down".
He said that for today's consumers "even overnight shipping is considered late and hourly tracking updates are expected", adding that "a novel approach" was needed to meet this demand.
Supply chains no longer focused on costs - SAP's Verhoeven
Verhoeven continued: "For decades, supply chain management has focused on cost, and keeping them lean and fast has been the priority. This is different from being agile and resilient.
"With the end of JIT models, businesses have to start putting the same expectations on their supply chain as they do on their wider business, structuring themselves to be JIC, so that when disaster occurs, they can adapt. Those who don't make this change are in for a very tough 18 months."
He added that resilient supply chains must be sustainable "not only in terms of the environment but also against developments in technology and infrastructure, both in the UK and abroad".
The need for agility and resilience is affecting everyone, SAP says - even multinational giants such as Apple, whose CEO Tim Cook built the modern-day company on a JIC inventory model when he was COO.
Also at the press briefing was SAP Retail Industry Value Engineer, Shaid Latif. While unable to confirm if SAP client Apple was moving to a just-in-time model, he did say the company "is not immune to the prevailing conditions", and that Apple itself recognises its famed JIC model was "built on simplicity".
Just in time inventory model 'an impossibility' - Unipart's Truesdale
Providing client-side insight at the report launch was Unipart Group Logistics Managing Director Ian Truesdale, who said even sectors that have been built on the JIT time model, such as the automotive industry, are turning to JIC inventory planning because of supply chain problems, particularly around microprocessors.
"It's impossible for automotive manufacturers to do anything else," he told Supply Chain Digital. "They can't be lying idle for periods and then calling in production-line workers when they have enough chips to build five cars."
Truesdale added that, in today's uncertain times, business growth required a deeper understanding of "the patterns of demand" in order to manage risk and prevent shortages.
"It's why we are re-engineering our processes and streamlining our data, to focus on process design and governance, operational execution and data and analytics," he said.
Only this, he said, will give Unipart "the ability to forecast, optimise and simulate supply chains to provide greater agility and resilience".
On the subject of resilience, Accenture's Stephane Crosnier said that the big challenge was that "there are no KPIs for resilience".
Crosnier is Supply Chain & Operations Strategy & Consulting Lead for UK & Ireland. He added: "The challenge is to create a standard around measuring resilience. Businesses need to know which nodes of their supply chain are most vulnerable."
Digital twins one way to create resilience KPIs - Accenture
Crosnier said that, to this end, digital twin technology - which can give a real-time digital overview of a supply chain - was one solution.
The panel said that another serious challenge faced by businesses looking to reimagine their supply chains is a shortage of labour with technical skills.
Unipart's Truesdale revealed that the skills shortage "is an ongoing problem for us", and that the company has taken steps to address this by founding Unipart U, one of the first corporate universities.
"We are developing talent from within," he says. "We have e-learning modules that are accessible for all employees, right down to warehouse staff, who have access to Python coding courses. It's important to have skilled staff now, not in the future."
About SAP
SAP SE is a German multinational software corporation that develops enterprise software to manage business operations and customer relations. The company is best known for its enterprise resource planning software.
About Accenture
Accenture is a professional services company that specialises in information technology services and consulting.
About Unipart
Unipart is a multinational logistics, supply chain, manufacturing and consultancy company. It works across sectors including automotive, retail, technology and rail. Among the organisations it provides third-party logistics services to is NHS England and Jaguar Land Rover.