RFID tech helping shape supply chain in omnichannel retail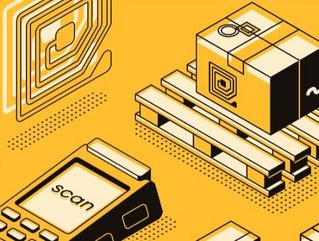 RFID technology has its roots in WWII radar but this old tech is helping today's retail companies shape omnichannel supply chain strategies
For a technology that has been with us for more than 80 years, RFID (radio frequency identification) is as fresh and vital as ever.
RFID is rooted in the radar technology that emerged during World War Two, used by the British, American and German militaries to identify whether aircrafts were friend or foe.
The first patent for commercial RFID tags was granted in 1973. Since then, the technology has been used in manufacturing, logistics and delivery networks, where tracking and monitoring product location is critical, as well as across wide-ranging sectors including consumer products, automotive, electronics, agriculture and retail.
Pandemic sees RFID become vital for omnichannel
Although prevalent in the preceding decades, it's only following the pandemic that RFID has begun to play an even more critical role in supply chains. COVID-19 forced businesses to rapidly adjust their priorities to meet new customer preferences ‒ particularly the seismic switch from in-store to online shopping, and the omnichannel retail model that has since sprung from this.
Tracking and tracing products has never been more important, especially for retail, which now needs solutions that can deliver real-time, all-round visibility of channel inventory. But RFID tech is also beginning to play a role in helping to transform the in-store element of omnichannel to a more online space, in terms of the flexibility, convenience and choice they are able to offer consumers.
French multinational IT services and consulting company Capgemini recently surveyed both retailers and shoppers. It found that 40% of consumers see shopping in-store as a chore, while more than half of retailers (54%) admitted they have been slow to digitise their physical stores.
For example, the majority of retailers do not offer inventory checks to consumers ahead of store visits ‒ even though 75% of consumers told Capgemini they want this service.
But this is changing. In the US, department stores including Nordstrom, JC Penney, Sears and Macy's now use their stores as fulfilment centres.
RFID helping retailers expand fulfilment options
More retailers are starting to offer collection options ‒ either third-party or in-store ‒ and finding ways to fulfil click-and-collect orders in-store, to save on logistics costs. The key to such a model is inventory visibility, allowing online orders to be confirmed at store level ‒ and the key to this is RFID solutions.
One company acutely aware of the new applications for what is known to be 'old' tech is Impinj, one of the world's largest RFID device-and-software companies.

Founded in 2000, the company is headquartered on the US West Coast, in Seattle, Washington. Gaylene Meyer, VP of Global Marketing and Communication, explains why RFID is a perfect solution for the inventory challenges thrown up by omnichannel.
"Retail stores can be chaotic environments and it's difficult to keep track of inventory," she says. "But because RFID can wirelessly identify one thousand items simultaneously and without line-of-sight it's the right technology for counting all the inventory across an enterprise of stores. With accurate data about every item in every store, a retailer can reliably tell online shoppers if an item is available in the store near them."
Logistics costs can be cut by RFID tech
Meyer points out that RFID is also ideal for helping businesses turn stores into fulfilment centres, to save on logistics costs.
She says: "Accurate, real-time data about inventory in a retail store can then be made available to online shoppers. Retailers will reap the cost-benefit by shipping from the location nearest to the customer, decreasing the need for excess warehouse space, increasing inventory turnover, and avoiding markdowns."
Meyer says that sportswear giant Nike tracks "more than 1 billion inventory units at 99.99% readability across all stores", and goes on to quote Nike's CEO, John Donahoe, who has called RFID "the most precise tool to meet customer-specific needs at the exact right moment".
Moving on to food retail, Meyer adds that it's RFID that allows for food to be tracked from field to store, for a fully visible, traceable supply chain providing customers information about the provenance of their food and producers traceability in the event of a product recall.
As well as helping satisfy the online and in-store needs of individual consumers, RFID is also helping retailers with more accurate demand forecasting.
Demand forecasting 'easier with RFID systems'
"RFID is 25 times faster than manual barcode scanning and is 99% accurate," says Meyer. "This level of inventory accuracy and insight allows retailers to sell down to the very last item, better managing loss and more accurately forecasting demand."
On this front, Meyer offers the example of fashion retailer Zara, which has RFID integrated into its stores.
"RFID is an integral part of the company's technology strategy," she says. "It has changed how it operates its stores. Before using RFID, ZARA employees undertook inventory checks once every six months by scanning each item's barcode, which took a team of 40 employees five hours to complete. With RFID handheld readers, a team of 10 can complete the same task in half the time."
RFID can also improve the in-store shopping experience for customers, allowing them to identify items they're interested in and verify in-store availability in advance. Store workers are also able to easily locate RFID-tagged items in-store or arrange to have an item shipped from one location to another.
"Nobody wants to fumble about scanning a barcode at a self-checkout stand," says Meyer. "Plus, in the wake of COVID, shoppers with compromised immune systems prefer to limit close contact with others, which makes RFID touchless self-checkouts perfect. Not only is it fast and accurate, but it also allows for social distancing. RFID helps make the retail experience a positive, delightful thing for customers."
Low-cost RFID makes it ideal for global IoT systems
Away from retail ‒ and with an eye on the future of RFID ‒ Meyer says the low cost of RFID tags makes the technology ideal for large-scale IoT systems that connect thousands, millions, or billions of things.
"RFID technology has evolved since it was first deployed for retail inventory tracking," she says. "Large global companies are now deploying RFID across their enterprises. Delta airlines, for example, uses it to track passenger bags from check-in to when they're back into travellers' hands.
"And the automotive industry, including Daimler AG, Volvo, Audi and Volkswagen, use RFID as part of their automated assembly lines, to identify parts, and to ensure every vehicle that rolls off the production line is consistent with the configuration selected by its new owner."