Retail seeking supply chain agility in omnichannel world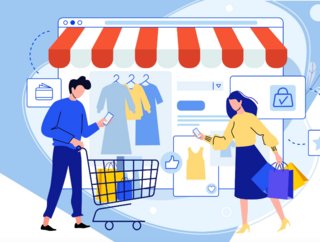 Few industries have been more exposed to the volatility of pandemic-era business than retail, says Lila Dorato, Senior Director of Solutions Engineering at MuleSoft.
Disruption, uncertainty and the shift to e-commerce means retail supply chains are seeking agility in Industry 4.0 tech and innovative inventory strategies
If one were to create a word cloud to capture the story of supply chains over the past two years, then 'agility' would figure large. Organisations continue to face unprecedented and ongoing disruption, uncertainty, and rampant inflation, which is why supply chains must be agile if they are to meet demand.
Few sectors have needed to be more agile than retail. At the start of the pandemic, consumers flooded online to find the goods they needed, and retailers responded by expanding their e-commerce capabilities. Online sales saw four years of growth in just 12 months, according to research from Experian.
"Few industries have been more exposed to the volatility of pandemic-era business than retail," says Lila Dorato, Senior Director of Solutions Engineering at MuleSoft, a leading API platform that allows businesses to use data to create "connected experiences". "In the early days of the crisis, supermarkets saw shelves repeatedly stripped bare by panic buyers, while other parts of the sector saw sales plummet after lockdowns forced store closures."
Uncertainty rife among retailers - MuleSoft
Dorato says that, although things have improved since the early lockdowns, there is still a great deal of uncertainty – both among retailers and customers – and that "rapidly changing circumstances and fluctuating demand are continuing to take their toll on global supply chains".
It's not just uncertainty and disruption that have created difficulties for retailers. Challenges have also come from the shift away from a multichannel consumption model towards omnichannel, whereby consumers expect a seamless experience between online and in-store.
Dorato says digitalisation is the key not only to helping retailers navigate difficult times, but also to "putting themselves at the heart of growth by attracting more of today's increasingly tech-savvy consumer base".
She adds: "Retailers need to ensure that both bricks-and-mortar and online customers get the seamless experiences they crave. That means being able to buy what they want, when they want it, without being exposed to the supply chain chaos that has frustrated the industry for much of the past two years."
She explains that this is why retailers are reducing on-hand inventory and placing smaller, more frequent orders with shorter delivery times, to avoid being left with surplus stock. But she adds that such a strategy comes with risk, because "if they're unable to match inventory to customer demand, revenue is put at risk".
Technology crucial to navigating supply disruption
"This is why technology is becoming ever more critical to navigating disruption, as retailers look to optimise their supply chains through data-driven decision-making and capabilities such as predictive analytics," Dorato explains.
She adds that many retailers are also investing in automation to ease the challenges of operating as a low-margin business.
"Automation can bring significant benefits throughout the supply chain, from fulfilment to check-out," she says. "It helps retailers maintain competitive pricing, while still increasing their profit.
"Retailers need real-time visibility into customer demand as it ebbs and flows across their entire supply chain. Only this wide-angled view will help them to detect early on the broader shifts in consumer behaviour that supply must adapt to, and enable, automated decision-making to meet the demand quickly.
"Many are restricted in these efforts by siloed data and legacy processes, such as manual restocking and batch ordering, which can be slow, inflexible, and error prone."
Technology alone is not sufficient to give retail supply chains the flexibility they need; the ways that demand must meet supply are also vitally important.
One effect of the monumental shift away from brick-and-mortar shopping towards ecommerce and omnichannel is that warehouse capacity has become sorely limited, with demand far exceeding supply.
And building new storage capacity is far from straightforward, because facilities need to be close to major roads or airports, meaning available land is either in short supply or cost-prohibitive. Add to this the fact construction costs are extremely high right now and it's easy to see why retailers are seeking new tactics to satisfy demand.
Stores taking on distribution centre role in omnichannel
One such tactic is to use existing stores as warehouses, says Nikki Baird, Strategy VP at Aptos, a retail technology specialist that provides omnichannel solutions.
Baird says back-of-stores can be used to fulfil click-and-collect orders, as well as orders that are shipped from the store, to speed up customer fulfilment.
She adds: "A big blind spot for retailers is connecting store assortment decisions to demand activity near the store. When a retailer chooses not to carry an item in a store, they have created a self-fulfilling prophecy, because that item will never sell in the store.
"But if that item is selling like hot cakes online and being shipped to homes around the store, that's a hint that you can save on logistics costs by holding that item in the back room for faster fulfilment and that you should also be carrying that item in-store."
While few stores offer the capacity of warehouses, space is less of an issue than one might think, says Baird.
"For store-as-warehouse decisions, space is a consideration, but most retailers have too much selling space, so rather than consolidating stores they should consider whether it's more cost effective to reduce selling space and increase storage space, knowing that the back room will be used as a supplement to the ecommerce distribution centre.
"The savings mostly come from being able to promise something like two-day shipping, but without having to pay expedited shipping fees."
Looking to the future, Baird feels that these changes to how stores are used by retailers to fulfil orders is here to stay.
"I don't think this is a temporary thing," she says. "I think retailers will have an inventory strategy based on online fulfilment from distribution centres during off-peak but have the ability to transfer demand from online to stores during peak season.
"When you think about the festive season alone, the shipping cut-offs seem to get earlier and earlier every year. Retailers must still physically move inventory to get it into a customer's hands, whether it's a package on a porch or a customer with a trolly in-store. "Retailers have for too long operated as if these things are disconnected decisions and operations.
"There's a lot of money to be made, costs to be saved, and customer satisfaction to be gained by considering them as one process – as a single pool of inventory."