Nike - an omnichannel inventory management cautionary tale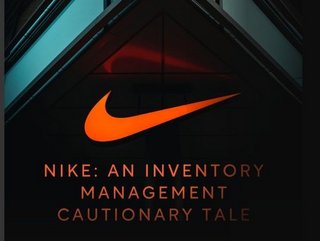 At the end of 2022 Nike staged a global fire sale, to clear an epic inventory glut that it blamed on earlier ordering by retailers and faster-than-usual deliveries. This typifies the challenges faced by retailers running an omnichannel model in a world of chaos.
Supply chain tech is helping businesses navigate uncertainty but, as Nike has discovered, omnichannel inventory management is tough in a world of chaos
In the early stages of the pandemic, sportswear manufacturer and retailer Nike deployed radio frequency identification (RFID) technology to track products flowing through outsourced manufacturing operations.
It also used predictive-demand analytics to minimise the impact of store closures across China. By rerouting inventory from in-store to digital-sales channels – and acting early to minimise excess inventory buildup across its network – the company was able to limit sales decline in the region to just 5%.
But fast-forward two years, and Nike is in the midst of a global fire sale as it bids to clear an epic inventory glut that the company blames on late deliveries over the past two seasons, compounded by earlier ordering by retailers and faster-than-usual deliveries.
The company has admitted that, despite strong demand, it will follow a policy of "aggressive markdowns" to clear inventories, though this will likely impact margins this fiscal year.
Nike CFO Matt Friend said on the company's quarterly call that inventory was up 44% company-wide, driven largely by a 65% hike in North America, its largest market. Friend said Nike plans to "tighten buys in the second half of the financial year and liquidate excess inventory more aggressively beginning in the current quarter", in the hope it better balances inventory in 2023.
Many clothes retailers are experiencing something similar, watching inventory pile up as inflation-hit consumers reign-in their spending.
"I hesitate to call it a bloodbath, but it's going to be ugly in terms of the amount of discounting and markdowns," Urban Outfitters CEO Richard Hayne said during a Q3 earnings.
In a post on LinkedIn, Brandon Rael – Business Transformation Leader with Capgemini Invent – said of the Nike situation: "It's continuing its aggressive push with its direct-to-consumer (DTC) strategies, and, at the same time, is in an over-inventoried situation where it has to review its wholesale partnership model.
"Nike is re-evaluating its wholesale partnership model while growing its DTC retail space. Its partnerships with Foot Locker, JD Sports, and others offer Nike an opportunity to manage its inventory challenges while extending its reach to customers, via well-established retail and wholesale models.
"Foot Locker and others have done an outstanding job of adding value to the Nike brand by providing a shop-within-a-shop customer experience."
This 'tale of two Nikes' shows just how perilously difficult it is for businesses to manage inventory in a world in which market chaos is … groan … the 'new normal'.
While the digitalisation of inventory management can be seen as a salve to such problems, it is no panacea. Here, Supply Chain Digital speaks to Will Lovatt, General Manager and Vice President Europe with Deposco, an inventory visibility platform whose customer profiles range from rapidly growing small ecommerce operators through to global consumer packaged goods brands and leading-edge 3PL fulfilment operators.
Lovatt shares insights into the inventory management challenges facing today's businesses and how some of these challenges can be met.
Nike was drowning in inventory. Could digitalisation help?
Our proposition enables organisations to use inventory to satisfy customer demand, no matter where that inventory is located. The net effect is that, for the same inventory investment, we are able to extend the reach and responsiveness of the network.
Nike's consumer-facing ecommerce operations send stock via retail partners to satisfy its end customers. Digital solutions such as ours help organisations match customer demand to available inventory across the business, minimising overstocking.
How has inventory management changed since COVID-19?
When the bricks-and-mortar retail world initially closed for Covid, online sales grew explosively, so having an omnichannel fulfilment capability became a necessity for every retailer, consumer brand, or marketplace operation.
With omnichannel, brands are largely helpless. They lack a way to receive orders from whichever channels and locations orders are placed and then proactively identify the best inventory across the network to satisfy that demand,
As the pandemic grew, many businesses were left with excess pockets of inventory originally intended to serve now-closed retail operations, as well as customer orders left unsatisfied in channels where no inventory was available.
How do you make an omnichannel supply chain work?
For an omnichannel supply network to operate effectively, it needs to fulfil three key requirements.
First, it must be sufficiently flexible to evolve as new channels open and sources dry up. Plus, new selling platforms – marketplaces and ecommerce front-ends, for example – need to be integrated and served.
Second, it has to be connected in real-time to all viable sources of inventory – something that can only be achieved with the help of web-based IT services.
Finally, the company's supply network must have deep knowledge of both the product and the sources of supply, so that the most suitable option is offered to customers based on location, timing, and local legislative requirements.
How can businesses best meet these challenges?
Primarily, organisations need to break away from the constraints of traditional retail-serving supply chains to accommodate supply networks. They can do so through dynamic, customer-focused, demand-satisfaction solutions; these need to deliver a real-time interface that embraces every commerce touchpoint while also considering all inventory sources.
Is legacy software in omnichannel fulfilment a problem?
Yes, it's a major issue. Batch updates and overnight refreshes between domains may have been adequate for a supply chain where customer interaction was limited to retail locations only. But the dynamic world of omnichannel fulfilment has to execute in sub-seconds across all customer-serving locations. Mismatches can lead either to heavy overstocking or the risk of double selling.
Can dark store and in-store inventory warehousing help?
Our solutions were born on the web and are architected to work in mixed omnichannel IT environments to serve our rapidly growing ecommerce direct-to-consumer customers.
We offer visibility across the inventory landscape, including traditional warehousing, retail stores, and various forms of fulfilment centres. Our customers also have the real-time ability to match source with demand.
It's all about working at scale and complexity but delivering simplicity and rapid time-to-value.