New ProNav PNN 420 sat-nav is 'fit for freight'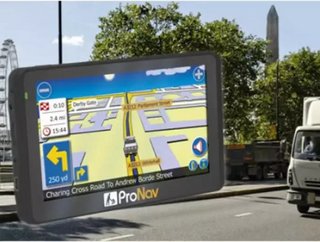 Follow @JosephWilkesWDM A new satellite navigation system for HGV drivers has gone on sale that includes innovative features such as an alert system to...
A new satellite navigation system for HGV drivers has gone on sale that includes innovative features such as an alert system to warn drivers of high convergence areas of cyclists and other HGVs.
Developed by leading navigation software specialist Navevo in association with the UK Government body Transport for London (TfL), the new PNN 420 HCV sat-nav system is part of the ProNav range distributed by truck and trailer parts maker Intertruck, which is billing the product as a "sat-nav fit for freight".
Other features of the specially-for-HGV sat-nav include a London "journey planner", part of the "London Freight pack" which comes with the device. This is compatible with the online Freight Journey Planner provided by TfL, and allows users to plan a route on TfL's website and then connect the device to a computer and download the route directly to it.
Developed in association with TfL, the PNN 420 employs data designed to help fleet managers improve route planning and scheduling, cut down on congestion and reduce pollution.
The HGV cyclist alert system generates an alert when the driver approaches a junction or bit of road designated by TfL as an "HGV/cyclist convergence area".
A visual map overlay will show a hotspot zone in a 50-metre radius and an alert will tell the driver when he/she has entered it, to remind them to be extra careful.
There will also be other mapping options such as the Western European Mapping version and ProNav wireless option.
Navevo's Chief Executive Officer Nick Caesari said: "Our partnership with TfL ... indicated that modern sat-nav solutions are not doing enough to help HGV drivers and fleet operators, particularly in the London area.
"The result of this partnership is the PNN420, which offers a range of premium features that we hope can go a long way towards helping these companies save money and increase efficiency and safety on the road."
Intertruck say that the new system is "designed with large and small fleet operators in mind, uses navigation based on height, weight, width, hazmat etc."
The company says that the features include "over 1,200 exclusive premium transport data points detailing height, weight and width restrictions for London alongside London loading bays and Red Route bays to help speed up the delivery process and ensure drivers can get back onto the road in the shortest possible time."
Ian Wainwright, Head of Freight and Fleet at TfL, said: "London's economy could not operate without an efficient and well-managed freight industry.
"By providing freight drivers with information to safely navigate around London in their cab, drivers can reduce congestion, emissions and unnecessary fines, delivering benefits to operators, local businesses and more widely, to all Londoners."
The ProNav's premium transport data comes from nationwide travel information services, and can also be connected to ProNav's new ProNav wireless, which provides full track and trace capabilities, as well as advance reporting, allowing fleet operators to remotely monitor their fleet from the office.  
The full features include:
·         Navigation based on height, weight, width, hazmat etc
·         Contains London Freight Pack
·         Potential hazard warnings (steep hills, sharp bends, crosswinds etc)
·         Latest UK/ROI NAVTEQ mapping data
·         Unlimited 'multistop' journey planning
·         Truck specific POI's
·         Dynamic ETA's based on real-tile historic HGV traffic data
·         6 month camera alerts
·         5″ high resolution TFT touch screen
·         and much, much more…
The system is priced starting from £228 (US$356). For more information go online to  www.intertruck.co.uk