Make supply chain technology work for you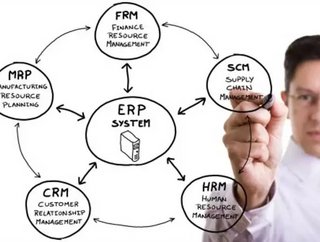 Written by Nachi Sharma My recent engagement with a US based Fortune 500 giant provoked me to write this article. The customer was gung-ho on how the n...
Written by Nachi Sharma
My recent engagement with a US based Fortune 500 giant provoked me to write this article. The customer was gung-ho on how the new Enterprise Resource Planning (ERP) software roll out for them is going to change their organisation and set them on growth trajectory.
My question to the director was not how this engagement is going but also if the organisation is keeping up with the changing social/technology paradigms in times to come? There are numerous customers who are thinking on similar lines and are looking to invest more to make sure their investments directly hit the bottom-line.
This plight also makes me wonder what I would consider had I been making the investment. Here I outline past, present and future trends that continue in ERP software and supply chain technology as a whole, and must be considered when choosing the right system.
Past Developments
Integrated Transactions:
The evolution of ERP systems happened when the need arose to integrate various Planning, Ordering, Procuring, Manufacturing and Financial systems. The erstwhile ERP systems were focused towards making sure that data available to planning folks can be shared with the order entry personnel. This made sure that whole organisation from shop floor supervisor to business managers are able to look at the same data. The access to data was restricted based on roles and responsibilities
Workflow driven business processes:
Once the transactions were integrated there was a need to automate the business processes. The businesses did not want to make their processes person dependent, delegation was needed and a 24/7 working engine was required. A workflow application is a software application which automates, at least to some degree, a process or processes. The processes are usually business-related, but it may be any process that requires a series of steps that can be automated via software. Some steps of the process may require human intervention, such as an approval or the development of custom text, but functions that can be automated should be handled by the application. Advanced applications allow users to introduce new components into the operation.
Business Process Management:
When all workflow could automate some or all of business processes, businesses recognized the need of managing all these business processes from a dashboard. Business process management (BPM) is the discipline of managing processes (rather than tasks) as the means for improving business performance outcomes and operational agility. Processes span organizational boundaries, linking together people, information flows, systems and other assets to create and deliver value to customers and constituents.
Plug & Play:
As businesses continued to make investments over the years, new set of technologies were required to make use of existing investments without creating sunk costs. There were multiple silos existing across the organization. Technologies like web services and other products from top ERP vendors came into picture to provide value to customers.
As businesses continue to evolve and emerging economies start to bubble, this has brought out a revolution by creating socially enabled data, new decision making capabilities and tonnes of data. Following will be the key areas which businesses, including ERP companies, will leverage to make their customers successful
New Considerations
Social Media Enabled :
More people are regularly participating in social media such as Facebook and Twitter, and this needs to be exploited when developing ERP systems. The next generation of ERP products will have more dashboards with Social Platforms, Media Groups, and Collaboration suites as part of their products. Organizations will bring more emphasis in reducing e-Mail infrastructure and focus more on real time information sharing via chat rooms on ERP products and Video Messaging integrated with roles.
Analytics:
The Aberdeen Group indicates a top concern for businesses continues to be the existence of data silos and worries about information quality. Disparate applications that are not interconnected through an ERP generate enormous quantities of information, and without those connections to tie processes and data together, the effort to examine company information is tedious. ERP can serve as the backbone of an organization by providing a fully-integrated operational system capable of processing, storing and reporting on high volumes of transactions. With ERP, companies have the ability to use business interface tools to collect and analyse data. ERP data schema is inherently complex and custom queries generated directly from the ERP may be challenging for some companies to achieve on their own.
Cloud:
The need to convert fixed cost into variable cost has always been the conundrum businesses are facing. With changing technology infrastructure and variance in the type of technology work businesses do, there's a strong need to move towards Software-as-a-Service (SaaS) model. This will be the trend which will continue till next few years. ERP companies will continue to invest in cloud based models as customers achieve more maturity in adopting SaaS model.
Big Data
Gartner defines big data as that which has high volume, velocity and variety, and the expanding social media universe is a prime example. Analysis of unstructured data such as that generated by social media poses a real challenge for companies. Products like Hadoop have gained attention of large corporations that wish to harness consumer opinions expressed in social media to drive company actions. Most small and midsize businesses, however, have not yet given much attention to these tools. What midsize business should consider is whether or not they will have the capacity to integrate their systems with products like Hadoop in the future.
When choosing an ERP solution, an important consideration is always going to be product agility. How adaptable is the architecture? Can the solution support ongoing customisations, not only to address your unique business vertical but also to adapt to changing technology trends? Are big data capabilities on the roadmap?
Mobility:
Another quite recent change in our daily business life is the increased requirement for mobility. With more people doing their job 'on the move', out on client sites, in warehouses, remotely from home, and not in a traditional office, mobile devices of all sorts are becoming important business tools. These changes have to be reflected in the ERP system to ensure that all staff, regardless of their location, can access vital information in order to carry out their duties effectively
About the author:
Nachi Sharma is currently working as Supply Chain Consulting Manager with Wipro Technologies. He is an SCM consultant with 11 years of experience. He has thorough experience in Business Process Modeling, As-is Process Mapping. He advises his clients on solving Supply Chain Challenges through various process modeling and technology deployments. He has worked with entire gamut of clientele in Hi-Tech, Discrete Manufacturing, Retail and Financial Services industries in US. His work has been published in international journals. He is the Founder & President of Sandhi Charity, a non-profit organisation focused on child education and providing global resource pool to various other non-profit organisations.