Make efficient supply chains a Christmas priority, says SAP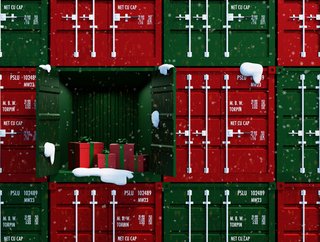 In the face of continued difficulties associated with inflation and war in Ukraine, businesses that have prepared, digitalised, and diversified their supply chains will have the upper hand this Christmas, says Tony Harris, Senior VP and Head of Marketing and Solutions for SAP Business Network.
SAP Business Network Head of Marketing & Solutions, Tony Harris, says firms who have digitalised, & diversified supply chains will be set for Xmas chaos
Everything gets busier at Christmas. From the motorways and train carriages to the high streets and warehouses, the festive season creates bottlenecks in almost every aspect of our lives. To navigate this hectic time, it is crucial for everyone – but especially supply chain professionals – to have plans, backups, and alternatives drawn up. If Christmas is to be delivered on time this year, supply chains must be properly equipped and prepared.
In the first week of December, one of the UK's largest retailers announced a last-minute ditch of Royal Mail because of ongoing strike action. In the face of unexpected challenges like these, combined with the continued difficulties associated with inflation and war in Ukraine, businesses that have prepared, digitalised, and diversified their supply chains will have the upper hand.
Energy prices on the naughty list
As the nights grow longer and colder, households and businesses alike will continue to feel the squeeze on budgets caused by increased energy prices. Recent ONS data has shown that nearly a quarter of businesses are placing energy prices at the top of their concerns. After two difficult years for supply chains at Christmas, rising energy prices are yet another problem added into the mix.
The ripple effect caused by these difficulties poses a risk to the entire supply chain. The root of the problem lies in uncertainty. The key to driving home positive results this Christmas will be mitigating these risks by utilising the digital and business network solutions available.
Making linear supply chains the ghost of Christmas past
Although the last two years have inspired an accelerated uptake of new digital solutions and hybrid ways of working, there is still significant work to be done. In fact, 64% of the respondents in a Statista survey "believe they need to build new digital business(es), and 21% believe they need to embed digital technologies in their current business model" in order to stay economically viable in 2023.
A necessary new year's resolution for supply chain professionals that haven't digitally transformed their supply chains is to do so in 2023. Early adopters are already reaping the benefits in the festive period and will continue to do so into the new year. Being bound by the constraints of a linear supply chain not only increases the possibility for disruption. It also prohibits agility in a sector where it is vital. In contrast, when organisations can integrate into business networks, they can identify risks early. A business network gives organisations a 360-degree view of the entire environment, so trading partners can evaluate supply and demand in real time.
The power of AI and analytics in procurement
Just over half of supply chain leaders are now using AI and analytics to better inform their operations, according to one report from Oxford Economics. Moreover, a study by McKinsey & Company has found that early adopters of AI-enabled supply-chain management are already enjoying the benefits, improving logistics costs by 15%, inventory levels by 35%, and service levels by 65%.
But the benefits of AI and analytics and being part of a business network are truly collaborative. As when an organisation is part of a business network, they benefit from the increased insight at every level. In addition, suppliers are connected to a wider range of possible customers. This facilitates greater flexibility and ultimately, results in improved customer service.
Although Christmas presents challenges, business networks facilitate the sharing of forecasts and analytics quickly and between multiple partners. Organisations can utilise these benefits to gain a clear advantage over competitors that fail to collaborate.
So, as they year draws to a close and consumers spend what could be up to £82.2 billion in the festive period, supply chains will have to operate under immense pressure. Organisations that have prepared their supply chains for the holiday challenges will help avert disruptions but more importantly, will help deliver Christmas on time.