Maersk recognised by GT Nexus Shipper Council for excellence in customer service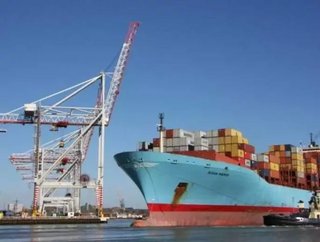 Follow @SamJermy and @SupplyChainD on Twitter. The GT Nexus Shipper Council, a community group of supply chain executives representing multiple large...
Follow @SamJermy and @SupplyChainD on Twitter.
The GT Nexus Shipper Council, a community group of supply chain executives representing multiple large global enterprises, has recognised Maersk as the winner of the 2015 Ocean Performance Award. The award was given at Bridges 2015, the leading cloud supply chain industry event held in Hollywood, Florida.
Mike Ellerby, International Transportation Systems Manager at Sears, and Chairperson of the Shipper Council, said: "The Shipper Council brings together the world's leading freight providers and creates a healthy competitive environment that raises the performance of the entire industry.
"Ocean carriers drive to be leaders and capture the award each year to demonstrate their commitment to customer service and data quality. Data benchmarks, shared by the community to foster on-going improvement for the industry, indicates that Maersk excelled these past 12 months and has taken a leadership role."
Data available through the GT Nexus platform provides calculated metrics related to data quality, responsiveness, onboarding times and customer service.
RELATED READS: Maersk announce profit of $1.6 billion
Maersk sustainable shipping initiative wins Guardian sustainable business awardCarsten Frank Olsen, Senior Director and Global Head of Ecommerce at Maersk, said: "The ocean carrier industry is complex and faced with numerous headwinds and challenges ranging from trade fluctuation to currency shifts to oil price volatility, and there's a transformation underway to counter these risks through optimised performance.
"The competitive nature of the Shipper Council community is driving change in the industry and we continue to push each other to achieve operational excellence. Maersk is committed to raising its level of performance to better service customers and we're very pleased to be recognised by our colleagues."
Shipper Council members all share GT Nexus as a common cloud technology platform to run their global supply chains, unlike traditional software company user groups. This allows the Shipper Council to measure and benchmark against the collective industry performance. Improvements by any single member benefit the entire community. The work of the group has moved the industry average data quality score to above 95 percent across the top 20 ocean carriers representing over 90 percent of global capacity.
Maersk Line is the world's largest container shipping company. It operates 374 offices in 116 countries, employing 7,100 seafarers and 25,500 land-based employees to operate 608 container vessels. Maersk Line is part of the Maersk Group, headquartered in Copenhagen, Denmark.
The GT Nexus Shipper council is a group of executives from large importers and exporters who came together because they all share GT Nexus as their global supply chain technology platform. The group is focused on driving improved partner relations, data quality and business processes. The Shipper Council participants come from a collection of companies that have over $1.7 trillion in revenues, and moves several million TEUs of ocean freight annually.  For information on the Shipper Council, visit http://www.gtnexus.com/global-supply-chain/our-customers/shipper-council/.