Logistics Link North event an important link in the chain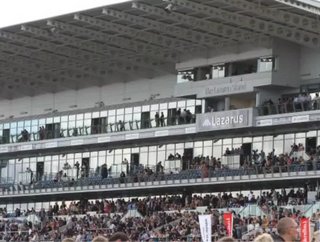 Follow @JosephWilkesWDM A top UK industry event returns to an historic setting in October and look set to be one of the biggest days in the world of lo...
A top UK industry event returns to an historic setting in October and look set to be one of the biggest days in the world of logistics.
Logistics Link North will take place on Wednesday, October 16 and Thursday, October 17 this year at Doncaster Racecourse in Doncaster, England.
Visitors will be able to watch demonstrations and test and compare some of the industry's most innovative products and services. The yearly event sees leading companies exhibiting across all areas of logistics, seminar sessions will be on offer featuring practical ideas and showcases of the latest supply chain solutions.
Visitors to the show will also have the opportunity to network and share ideas with peers in the specially adapted, buyers-only Networking Lounge. 
The organisers say that the racecourse is the ideal setting due to its high ceilings and available space. The exhibition facilities are also easily accessible by road or public transport.
A selection of leading industry professionals have been quoted in support of the show and the recently held Logistics Link Live show, which took place in June in the NEC Birmingham.
Robert Smith, Director at conveyor, warehouse and storage solutions provider BS Handling Systems, said: "The Logistics Link series of exhibitions are a low cost route to market - with a high return.
"We had a steady stream of visitors to our stand at Logistics Link Live with some great enquiries - this followed on from the success of Logistics Link South where we secured some big orders.
"The Logistics Link Shows have always been successful for us and we look forward to exhibiting again at Logistics Link North in October this year."
Supply Chain Directors, Distribution Heads, Warehouse Managers, Logistics Managers and Shipping and Transport Managers across sectors can explore the full range of distribution and supply chain options at the event.
Previous attendees include Tesco Stores, Post Office, Jaguar Land Rover, Kenwood, Pets At Home, Philips Electronics, Tomtom, Patisserie Valerie, Three UK, Cancer Research UK, Glaxosmithkline Pharmaceuticals, Kerry Foods, Lovefilm International, M&S, Kellogg's, Unilever, Natures Way, PHS Group, Scotts Miracle-Gro, Daifuku, Activa Health Care, among others.
Gavin Clark, Commercial Director of Snapfulfil SaaS Warehouse Management Software, said: ""We have been exhibiting at the Logistics Link Shows for many years now and they provide everything you need from a trade show, a good range of prospective customers.
"Each show has demonstrated good seminar content to attract the right people, excellent promotional activity in the trade press to inform and wide range of exhibitors to cater to the needs of the busy warehouse operation and make it worthwhile taking time out to visit the show.
"The Snapfulfil team has always generated interest in our WMS that we wouldn't have otherwise and look forward to the next event."
To find out more and register for free for Logistics Link North visit http://north.logisticslink.co.uk