Last mile logistics 'hot area of supply chain investment'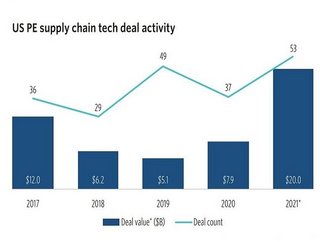 PitchBook's report into supply chain investment shows a massive spike in private equity investment in the US in 2021 compared to the previous four years.
Report into investment trends in supply chain by investment data specialist PitchBook says fragmented tech value chain ecosystem 'ripe for investment'
An in-depth report into investment opportunities in supply chain suggests the fragmented tech services market is ripe for private equity investment, to drive scale and value in established companies.
It also details how Industry 4.0 technology is crucial for improving supply chain resilience, and that last-mile logistics is another area in which there is capacity for long-term growth.
The report, called Private Equity's Opportunity in Supply Chain Technology, is published by PitchBook Data, which delivers data and research covering private capital markets, including venture capital, private equity and mergers & acquisitions.
PitchBook's report explores the complexity of the supply chain due to e-commerce, and how private equity can benefit from investments in supply chain tech sector.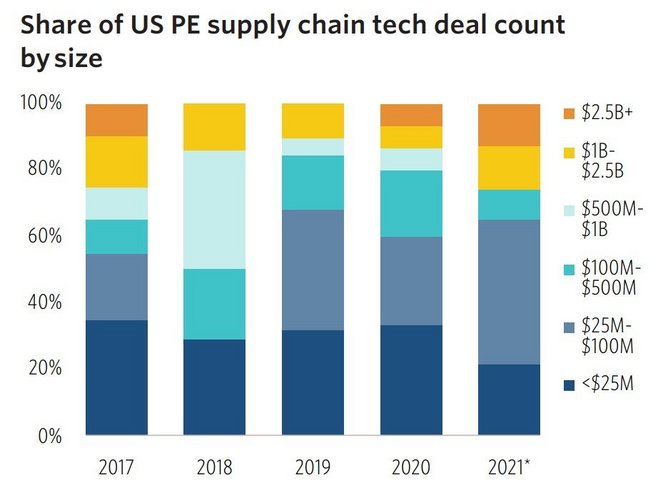 Supply chain stakeholders 'must innovate'
It also highlights the need in organisations to strengthen and transform the supply chain, and how this is putting stakeholders under pressure to re-evaluate their strategies for long-term success.
The headline messages of the report are that:
Private equity investors can benefit from the "fragmented tech-enabled services market to drive scale and value in more established companies through additional capital, add-on acquisitions, and expansion in both geography and services".
Global supply chains "buckled under labour shortages, distorted demand, and constricted capacity of manufacturing and logistics services". Technology "is crucial to strengthen the resilience of supply chains by improving efficiency, flexibility, and visibility".
Logistics and transportation are cited as being "core sub-segments of supply chain tech", in which technological capabilities "can drive significant long-term growth".
PitchBook Private Equity Analyst Jinny Choi says that venture capital investment is geared toward transformational technology solutions in last-mile delivery and autonomous delivery and fulfilment.
PE investors seeking mature supply chain tech firms
Of private equity (PE) investment, Choi says: "The approach is either to seek out mature supply chain tech companies that can be reinvigorated by capital and end-to-end transformation, or to pursue deteriorating companies within supply chain that can be made more efficient through modern technology."
Choi says storage businesses are one of the largest areas of supply chain-related PE investment, because the growth of e-commerce is generating "incredible demand for warehouses and distribution centres.
She adds: "The bet on the growth of online retail is a bet on more and larger fulfilment centres and, by extension, on logistics services related to tracking, inventory management, and last-mile fulfilment."
She says those e-commerce vendors who are leveraging technology to speed up delivery times and fine-manage inventory have a competitive advantage in a rapidly growing global marketplace.
Choi adds that a fragmented tech-enabled services market is presenting "many opportunities for investors to scale and consolidate attractive companies, as PE firms integrate smaller service-providers that lack the resources to invest."
She says: "The opportunities to use technology to drive
efficiency and stability in supply chain have increased dramatically, positioning supply chain tech as a vertical ripe for growth and innovation."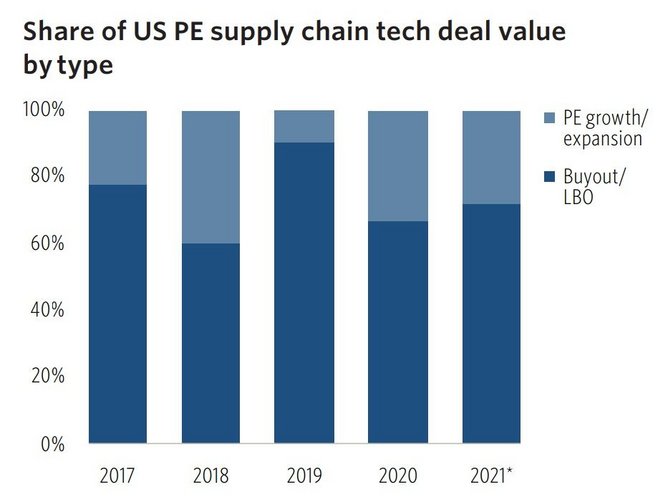 About PitchBook
PitchBook Data is a SaaS company that delivers data, research and technology, covering private capital markets - including venture capital, private equity and M&A transactions. It is based in Seattle, Washington, with regional offices in London, San Francisco, New York City, Mumbai and Hong Kong.