Key themes at Procurement & Supply Chain LIVE 2023: Part 1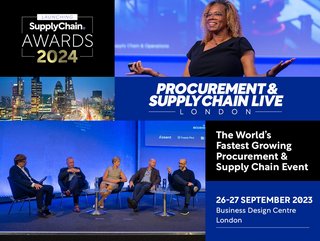 Procurement & Supply Chain LIVE 2023
Discover five core themes of Procurement & Supply Chain LIVE London 2023 and who will be speaking on these topics over the two days
Returning to London for a third year, Procurement & Supply Chain LIVE will be gathering industry-leading voices between September 26-27, 2023 at the Business Design Centre.
Two days, one unmissable procurement and supply chain event
Following the success of Procurement & Supply Chain LIVE New York, we return to London for a third year to for our annual hybrid event - Procurement & Supply Chain LIVE London 2023.
Across the two action-packed days, Procurement and Supply Chain LIVE London will feature acclaimed keynote speakers, one-on-one meetings, expo stands and interactive high-energy workshops and panels to drive the conversation of innovation.
Expect to network with some of the world's most influential and leading CPOs, CSCOs, CLOs, VPs, and directors from the world of procurement and supply chain.
"These past 2 days were perfect. Intimate conversations with CPOs and amazing businesses with cutting edge technology to move supply chains forwards. Proud to sponsor an amazing event" - Nedra Dickson, Accenture (Sponsor).
To get your free pass, click here!
Key themes to feature at the world's fastest-growing procurement and supply chain event: Part 1
Over the course of the two days, c-suite leaders in procurement and supply chain will explore nine core topics. In Part 1 of this series, we will take a look at five of the nine topics and some of the industry leaders deep diving into these topics.
Procurement Technology
Revolutionising the way organisations manage their sourcing, purchasing, and supplier management processes, advanced tools and platforms are streamlining operations, enhancing efficiencies, and reducing costs by automating manual tasks and providing real-time data.
Speakers:
Mark Gilham (Enable) - Enabling Procurement
Chris Bullock (Novartis) - Strategic Supplier Relationship Management (SRM): Unlocking Collaborative Success
Nicholas Wright (bp), Sheldon Mydat (Suppeco), and Waleed AlSaeedi (Abu Dhabi Government) - The Digital Procurement Forum
Rob Collie (Sky) - Elevating Procurement Excellence: Insights from the Group Director of Procurement at Sky
Dan Jenkins (EY) - Navigating the Digital Procurement Landscape: A Fireside Chat with EY
Shashi Padhi (Philip Morris International) - Digitising Third-Party Worker Procurement
Supplier Diversity
An essential business strategy to promote inclusion and utilisation of a diverse supplier base in procurement practices, supplier diversity creates opportunities for underrepresented groups. By diversifying the supply chain organisations can drive innovation, foster economic growth, and enhance competitiveness.
Speakers:
Paul Doherty (Heathrow Airport) - Driving Procurement Excellence: Insights from the Procurement Director at Heathrow
Dirk Karl (MTN) - Supplier Diversity Keynote
Brian White (Swarovski) - Exploring Supply Chain Innovation: A Fireside Chat with Swarovski
Strategic Sourcing
Strategic sourcing is a systemic approach to procurement that goes beyond the simple act of finding suppliers and negotiating prices. Strategic sourcing involves the analysis of needs to identify the best suppliers, and the development of long-term relationships to optimise quality, cost, and delivery.
Speakers:
Adrian Oyekanmi (Radisson Hotel Group) - Strategic Sourcing: Unleashing the Potential for Success
Patsy Duncan (PepsiCo) - Procurement Excellence Unveiled: A keynote with PepsiCo
Milind Tailor (Diebold Nixdorf Inc) and Andrew Tuner (JLL) - The Strategic sSourcing Forum
Procurement Strategy
A proactive approach to managing the acquisition of goods and services, procurement strategies aim to be effective in meeting an organisation's needs. The approach involves setting goals, identifying supply sources, and establishing processes for sourcing, negotiations, and risk management.
Speakers:
Jon Willescroft (G4S) - Aligning Excellence: A Keynote on Procurement Strategy with G4S
Alisa Bornstein (Visa) - Enhancing Business Value: A Keynote on Procurement Strategy with Visa
Natasha Schulz (Evercare Group) - Procurement within Private Equity
Carol Williams (Laing O'Rourke) - Procurement Strategies in Construction
Scott Dance (Hays PLC) - Unveiling Success: A Fireside Chat on Recruitment Strategies in Procurement
Cameron Smith (Novartis Pharma AG), Parminder Sikka (Infosys Consulting), and Katya Kiyanenko (GSK) - The Procurement Strategy Forum
Samantha Davis (CH&CO Group) - Navigating the Supply Chain: A Fireside Chat on Procurement Strategies with CH&CO Group
Jonathan Wharfe (TfL) - Transforming Procurement: A Keynote Address with the CPO at Transport for London
Supply Chain Sustainability
Now more than ever, it is important to integrate sustainability and ESG guidelines into every stage of the supply chain. This means not only creating awareness but having an active approach to combating climate change and ensuring fair and ethical treatment of workers.
Speakers:
Mike Brooman (Community Fibre), Maureen O'Shea (Barigna), and Phil Halanen (Wyndham Hotels & Resorts) - The Supply Chain Sustainability Forum
Madeleine Joubert (BDO) - Sustainable Procurement: Driving Environmental Responsibility and Social Impact
Alexander Tschentscher (Siemens) and Michael Carson (Cushman & Wakefield) - The Supply Chain Strategies Forum
Andrew New (NHS Supply Chain) - Optimising Healthcare Delivery: A Keynote on Supply Chain Strategy with the NHS
Eirini Etoimou (Sellafield Ltd) - Engaging & Integrating Sustainability across the Business at Enterprise Level
To find out more about our agenda, click here.
To get your free pass, click here!
Global Procurement & Supply Chain Award 2024
Presented in conjunction with Procurement Magazine and Supply Chain Digital Magazine, Procurement and Supply Chain LIVE London will be launching its inaugural Global Procurement & Supply Chain Award 2024. The award will be honouring the best of the best making innovative, sustainable and disruptive waves in the industry.
Website coming soon…
"Thank the whole team for the excellent and seamless operation. Well done! I've been to many of these events over the years, and this one stands out" - Daniel Helmig (Speaker), Managing Director & Head of Procurement, Credit Suisse.
We look forward to welcoming all in-person delegates to London on the 26-27 Sept 2023, as well as the many thousands of virtual attendees as we broadcast our full two-day conference and networking programme LIVE to the world!
To watch any of our other speakers from Procurement & Supply Chain LIVE, click here.
To find out more about Procurement & Supply Chain LIVE, click here.
To take a look at our previous events, click here.
******
For more insights into the world of supply chain read the latest edition of Supply Chain Digital Magazine and be sure to follow us on LinkedIn & Twitter.
Other magazines that may be of interest: Procurement Magazine, Manufacturing Digital
******
BizClik is a global provider of B2B digital media platforms, for leaders across: Sustainability; Procurement & Supply Chain; Technology & AI; Cyber; FinTech & InsurTech; Manufacturing; Mining; Energy; EV, Construction; Healthcare; and Food. Based in London, Dubai, and New York, Bizclik offers services including content creation, advertising & sponsorship solutions, webinars & events.
When it comes to future applications of generative AI in supply chains, EY sees risk management as one of the most promising areas for the tools, particularly in preparing for risks that supply chain planners haven't considered.