Interview: Eliminating paper in the supply chain with Esker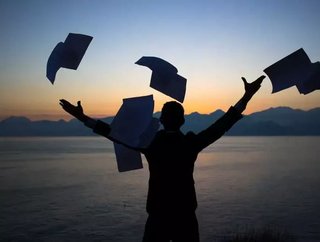 Paperless processes are freeing up resources and driving efficiency in procurement. Esker's COO Steve Smith explains Historically, companies have al...
Paperless processes are freeing up resources and driving efficiency in procurement. Esker's COO Steve Smith explains
Historically, companies have always spent a lot of time and money moving paper around. And if any aspect of that business involves supply chain management, then the inevitable large amounts of paperwork can result in a supply chain that's sluggish and inefficient. In efforts to streamline, companies are increasingly looking into implementing digital technologies in their supply chains, which enables them to vastly increase the speed of processing while also going paperless.  
It is actually possible to quit paper completely, which has numerous positive knock-on effects, according to cloud-based document process automation solutions provider Esker. Along with doing away with the need for paper, automating every phase and type of business information exchange enables companies to reap a host of benefits in a short space of time; Esker says its solution can deliver a measureable ROI in as little as three to six months.
The company, which launched as a software vendor in 1985 in France before branching into document automation, operates across Europe, North America, Latin America and Asia Pacific, and counts global heavyweights Ericsson, Hyundai, Heineken, John Deere, Kimberly-Clark and Microsoft among its 80,000 customers and millions of licensed users. Esker's technology enables businesses in numerous sectors to automate manual inefficiencies and low-value tasks in their order-to-cash (O2C) and purchase-to-pay (P2P) processes.
Steve Smith, Esker's Chief Operating Officer, says the company's solutions are about "keeping the supply chain rolling and getting goods and services out as quickly as possible". He adds that cloud-based process automation enables orders to get into the ERP quickly, invoices to be issued, purchase orders to be managed, and invoices to be approved and paid as quickly as possible – all without any data being inputted manually or paper being printed.
"We can get orders processed sometimes 80% to 90% faster than they could do manually, so they're getting orders in and fulfilled quickly, keeping customers happier," Smith shares.
Speed is something that has always been a priority in business but never more so than today, at a time when customers simply don't want to wait. Younger generations have grown up alongside the digital boom, where everything is available instantly and services have grown exponentially.
"We've had many customers tell us that it's been part of their strategy to fulfil orders the same day or within a 24-hour period. Aside from a competitive standpoint, they may offer certain goods and services that mean they have to get their products out faster, and we're able to facilitate that," Smith says.
"On the accounts receivables side, you're gaining efficiencies by being able to send invoices in a format where your client can better work with them, so the customers of our customers can accept or request their invoices in electronic formats. If they still want them via paper, they can get them via paper, if that's how it works better in their AP (accounts payable) process. It's the same on the inbound or the P2P; our customers are seeing benefits by having their spend approved before they actually make it, not after the invoice is coming in. Having all the proper workflow to make sure the spend is acceptable means when the invoices do come in from suppliers, they're paid much faster as it's pre-approved."
As well as reducing the time it takes to fulfil orders, going digital reduces the ecological impact a company has. It's not often you can argue that the most efficient process in any given scenario can align with the best environmental decision, but Esker certainly makes a strong case for that, when you consider that it's enabling a customer to send and received tens of thousands of digital documents each year, which reduces CO2 emissions and the need to cut down trees.
"We certainly know that we are reducing the amount of paper in companies and that there are environmental benefits to it; we know we're saving trees," Smith says, before adding that, unlike Esker, saving the planet has not been a key motivator for companies.
He admits: "Customers seem to care more about the cost-savings. We actually talked about doing more campaigns around green initiatives in the past but, surprisingly, it wasn't as high of a priority within companies as we thought it would be. I was actually quite shocked."
Something that will always be popular, however, is harnessing technologies that enable human resources to be freed up for more valuable tasks, as it delivers salary savings while significantly minimising the risk of human error.
SEE ALSO:
"The goal in many cases is to reduce human interaction and automate processes to the highest degree," Smith says. "Then you can find other reasons to use those humans. With order processing, many customers are repurposing people that were interacting with those orders coming in to more valued processes."
Instead of workers being pushed out by automation, they can be redistributed to areas that make better use of human skills, though there still exists an opportunity to trim down the wage bill if required, Smith explains.
"Where we may see some reductions from the human perspective is where overtime is reduced greatly or they might not need to hire part-time individuals to handle peak period," he says.
Turning his attention to Esker itself, Smith discusses exciting digital opportunities he wants to seize this year surrounding new legislation.
"We're always looking at ways that we can enhance our solutions and certainly we are now with the B2G (business-to-government) initiatives in the Americas," Smith shares, referring to e-invoicing becoming mandatory before the end of the 2018 fiscal year for companies in the US that provide goods and services to the government.
"We've hired a team to really focus on that in the Americas because it wasn't as big of an initiative here as it has been in Europe and Latin America. We think, with the B2G initiative starting in the Americas, we could see a real spike in growth for electronic invoicing initiatives here. We're going to hopefully see more activity around our accounts receivable solution."
Moving to Europe, EU directive obligates all contracting authorities to be able to process e-invoices by the end of 2018 and a major e-invoicing initiative launched last year, requiring an interoperable, common standard for B2G trade in Europe, with a deadline for implementation of April 2019.
Smith adds: "We deal with all compliancy issues in Europe and Latin America, and other parts of the world, including the B2G initiatives. We can format our documents to meet all the different compliancy issues that are out there. On the B2G initiatives, we have to tailor the way the invoices are formatted, specifically to the different government initiatives. In Latin America, we've got to make sure the government sees invoices before they're sent out to suppliers, and we've got to make sure we're showing that VAT is being collected with the different compliancy issues throughout Europe."
In terms of what's on the horizon, promising to disrupt the global supply chain management industry, Smith sees advancements in robotic processing and AI, revealing that this is a "big part" of Esker's solution.
"Through AI and robotics we are able to automate things faster and adapt to everybody's environment. Even though what we do is similar in every company, in many cases there's nuance involved with orders and invoices but no matter what kind of document we're dealing with, having robotics and artificial intelligence built into our solutions enables faster adaption to environments. There's a lot of talk around this right now and in the next few years we're going to see huge advancements to speed up and enhance the whole supply chain management process."
While discussing companies' interest in embracing digital documents over paper documents, Smith tells Supply Chain Digital that he experienced a level of resistance to even going paperless until fairly recently. He cites younger generations entering the workforce as a key factor in driving a change in mentality.
"I've been talking about paperless for probably 30 years and it's really been in the last five years that I've started to see many of the things that we talked about way back when, really starting to take hold. The younger generations are used to using electronics – laptops, tablets, phones – and that's the way that they are used to doing their daily activities. To receive something via paper seems odd to them and, quite frankly, they're forcing people even in my generation to think differently," he states. 
Asked if there is ever a need for paper, he concedes that he does find it useful to have paper documents occasionally – to look over when he's travelling for instance – but believes "the need for paper has greatly diminished".
"We've all learned to get used to paperless ways of communication and we're finding that it's just an easier way of doing things," he concludes.