Interview: Charles Brewer, CEO of DHL eCommerce on effective strategy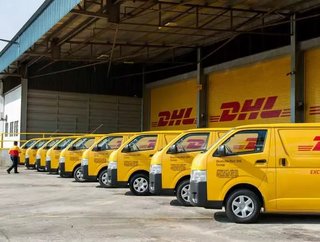 Amazon founder Jeff Bezos once said: "If you do build a great experience, customers tell each other about that. Word of mouth is very powerful." And...
Amazon founder Jeff Bezos once said: "If you do build a great experience, customers tell each other about that. Word of mouth is very powerful." And when it comes to ecommerce, ensuring positive customer experiences is one of the absolute fundamentals if you wish to build a successful business.
The continual growth in ecommerce that has been witnessed was not entirely unanticipated and a number of the big logistics companies have made it an integral part of their strategic focus. Charles Brewer, CEO of DHL eCommerce, makes no bones about the importance of strategising effectively, saying that it's essentially "where you win and lose customers" as a company in the market. Brewer, who has held his position for approaching two years now, is adamant that ecommerce fulfilment is something which is not spoken about enough.
The point was articulated in an article published exclusively on Supply Chain Digital's website in January, where Brewer wrote: "When we think of ecommerce we tend to think of booming sales, products zooming from the screen to the doorstep, science fiction-like delivery methods and big-data making everything more efficient.
"We tend to forget the behind-the-scenes logistics involved in physically storing the products, picking them from the shelves, packing them, shipping them around the world and then delivering them to a customer's front door. All of this falls under the term fulfilment and it can make or break any ecommerce merchant."
Speaking now to Supply Chain Digital, he adds: "The ecommerce demand is definitely increasing, and remember we really are still at the very early stages – we once again witnessed record 'peak' volumes last year and I am sure we will see the same this year. The key is to plan, plan and plan again."
There can be no doubting the Briton's passion and he does not try to hide his excitement at the potential for innovation in what is a growing space.
Omni-channel sales is one area which is becoming an increasing point of focus for all of the big logistics companies, with DHL recently opening fulfilment centres in Australia and Hong Kong to supplement its operations.
According to DHL research, omni-channel shoppers spend 15-30% more than traditional shoppers, and given that fact, Brewer can only see ecommerce continuing to be an area of focus for the big companies as technology advances.
"Omni-channel will be the norm. Big data, artificial intelligence and automation will be important and will help businesses become better and more efficient in their processes," he says. "These will enable businesses to learn customer experiences and deliver according to their demands.
"In ecommerce, payments and shipping – the two big enablers – will be more and more seamless. It will become easier for shoppers to shop. Cross-border will no longer be a 'thing' – people will just shop online regardless of geographical boundaries."
But although it's growing, omni-channel has created a litany of new problems for logistics companies to resolve as they strive to ensure a positive customer experience.
The process can be broken down into three main stages: warehousing, order processing and delivery. It's the latter of these where a lot of ecommerce companies fall down, as Brewer explains.
SEE ALSO:
"The majority of shoppers are less than satisfied with their delivery experience, from visibility, to choice of delivery day, time, location, etc." he says. "The opportunity to 'fail' is significant, and a poor deliver experience critically impacts the likelihood of the shopper returning. That is why DHL eCommerce aims to deliver the smile in the last mile – making the delivery as engaging and exciting as the shopping experience." That all sounds well and good, but how can that be achieved?
"An omni-channel approach requires strong logistics support at the background that allows your warehousing, inventory management, first and last mile delivery to be integrated and seamless," explains Brewer.
"For example, when the consumer decides to try in store, shop online and deliver to their office; or any other shopping preferences they may have – the merchant is able to deliver a great consumer experience, not just delivering on time, but also providing shipment visibility, a simplified returns or exchange process, ample payment solutions, flexible re-routing if they change their minds, etc.
"All of these work together to provide greater choice, convenience and control for the shopper, and if done right, they will keep coming back for more."
Ensuring said fulfilment is not always easy though, and even for a global player like DHL, sometimes there is a need to work in partnership with other companies to ensure that orders reach their given destination, on time.
Brewer says that building a successful ecommerce operation all starts with good upfront integration and being able to provide the shopper with options. "Getting the last mile right isn't easy and can create incredible customer pain points as well as inefficiencies. Partnering with the right provider and doing your homework up front is where you can win.
"Holistically, businesses now want to move their inventory as close to their customer as possible, and in doing so reduce delivery times and fulfill orders quicker. With our sister company DHL Supply Chain, we are able to provide ecommerce fulfilment solutions on the customers 'doorstep'. So depending on the requirement, we can provide last mile delivery in country, cross border delivery worldwide with multiple speed options and local, regional and or global fulfilment."
No doubt that ecommerce will continue to grow, but it's a space where there is still room for other trends and innovations to come to the fore.
Environmental factors will become more of a consideration for customers in the years to come, says Brewer, and he admits he's interested to see how things will change in the ecommerce space in the years to come.
"The ecommerce industry is still incredibly nascent, as such we are all rapidly innovating and learning," he adds. "Whether it be electric vehicles that ensure we play our part in a 'cleaner' tomorrow, alternate delivery methods to delight our customers, or route optimisation to ensure our thousands of delivery drivers have the most optimal routes, we are constantly innovating to ensure we deliver on our goals. The environmental impact that comes with ecommerce and logistics will be one that consumers become increasingly conscious about and they would want to be as green as possible.
"DPDHL Group (DHL eCommerce's parent company) has announced that by 2050 we will reduce all logistics related emissions to zero – as we know that this will be a great concern for both consumers and businesses moving forward."