Supply Chain Risk Management
IBM CSCO report: digitalisation is top supply chain goal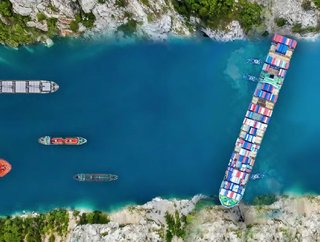 The supply chain dramas of the past three years (such as the Suez blockage, pictured) show few signs of easing. Research from IBM's Institute for Business Value shows a 36% increase in CEOs citing supply chain disruptions as one of their greatest challenges.
Report from IBM's Institute for Business Value explores how chief supply chain officers are using greater C-suite clout to drive crucial strategic changes
The latest IBM Chief Supply Chain Officer research shows that for 48% of supply chain leaders, transforming operations is their top priority.

The report, from IBM's Institute for Business Value (IBV), explores how chief supply chain officers (CSCOs) are using their greater C-suite clout to drive the strategic change their organisations need.
CSCOs describe how their roles have evolved and why now is the time to reimagine supply chains to manage current and future disruption.
IBV, along with Oxford Economics, interviewed 1,500 CSCOs and COOs from 35 countries across 24 industries.
Almost half (47%) of CSCOs have introduced new automation technologies – an approach that can add predictability, flexibility, and intelligence to operations – especially automating decision making.
IBV points out that such moves mean production is streamlined, with robots performing the same tasks repeatedly and efficiently, and AI can monitor quality and track performance.
A total of 48% say they are seeing increased design and collaboration with partners, something that IBV says enables strategic segmentation.

"Parsing the supply chain by segment can promote tighter collaboration with suppliers and service providers that have differentiated skills and capabilities," the report says.
The following are excerpts from a selection of those interviews conducted by IBV.
Greg Jozwiak, CSCO, Dow Inc
"There have always been periods of intensity when external factors affect supply chains. Those periods are usually more around single disruptions like severe weather.
"But there has been a consistent flow of serious events for the last three years with Covid, extreme weather, logistics challenges, war, etc. In many respects, all of our supply chain teams have been delivering heroic efforts to keep products moving."
Alessio Garofalo, CIO/CTO of Oxagon, NEOM Industrial City, Saudi Arabia
"The CSCOs of the future will be technologists. Mathematics, optimisation, and computer science will be more relevant to their education. Also important is a good understanding of cloud deployment and the different solutions you can leverage from an infrastructure point of view. The transition will be significant."
Sami Naffakh, Chief Supply Officer, Reckitt Benckiser, UK
"Digitise when it's going to create value. Invest in data and systems where you know you have an issue, and where you strongly believe that digitalisation with data analytics, artificial intelligence, and advanced technology is going to help resolve that issue."
Mike Corbo, CSCO, Colgate Palmolive, US
"I believe CEOs and boards got us into this situation by looking at the supply chain as a way to cut costs. We did that very well for 20 years. But then we had a major tremor, and now they understand. Supply chain can't just be a cost centre. It's got to be an enabler of growth."
(Note: Mike Corbo has retired since being interviewed)
Sophie Bechu, COO, Philips, Netherlands
"Anything that could give us more horizontal data visibility into n-tier suppliers with connectivity all the way through logistics delivery is immense. Then, if you can add AI and smart insights, not only are you building better planning, but you are building insights for risk management."
Dr Dirk Holbach, CSCO, Henkel, Germany
"I would say for me, it's a lot about mindset. It's the ability to live and operate the system under uncertainty and the ability to anticipate. I think of it as being agile and having that resilient mindset. Nowadays, we have to phase this in for everyone who is in the supply chain role."
Brian Thornley, Associate VP Supply Excellence, Merck Pharmaceuticals, US
"We are building a consortium of 15 participants across the pharmaceutical industry – a blockchain network, linked to each company's system, while safeguarding the confidentiality and security of each company's data."
Travis Hedges, Director, Global Supply Chain Digital Transformation, Northrop Grumman, US
​​​​​​​"At Northrop Grumman, we created an organisation called the Quick Reaction Force. They're agile developers and supply chain experts who get ideas from their customers and put them through an ops model to ensure they can be deployed in 90 days.
"They then dive in, and the developers work with the supply chain experts. We're getting rapid turn deployments out of this."