How predictive maintenance is helping keep supply green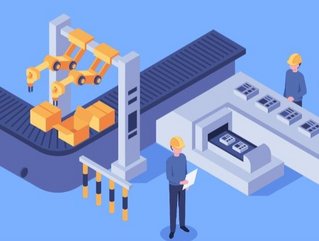 Data-driven predictive maintenance solutions are helping businesses with profitability, sustainability and the personal safety of their people
'A stitch in time saves nine', is an idiom many of us will have been on the receiving end of when our neglect, indolence or distraction caused this or that object to sheer, snap, unravel or overheat.
I once ignored a leaking radiator on my maroon Ford Fiesta for nine months, choosing to turn the heaters up full blast to draw heat from the engine, rather than replace the radiator. The good news was that in the end, I didn't need a new radiator. The bad news? The car caught fire on the A23 just outside Croydon, after overheating one time too many.
I doubt even today's Industry 4.0 tech-driven predictive maintenance solutions would have helped me; I would doubtless have ignored the blizzard of data-fed warnings flying my way.
Yet businesses can ill-afford to be so heedless, because predictive maintenance solutions can help improve profitability, sustainability and also the safety of staff. It's a big growth area, and companies are beginning to take the technology in new directions.
Helping them do so is Andy Hancock, Global VP of SAP's Digital Supply Chain Centre of Excellence (CoE). The CoE is rather like a SWAT team of experts, who deploy on the ground to help customers get the most from new and pioneering SAP solutions.
One area in which the CoE helps businesses is predictive maintenance. As with most things, this is not a new idea. Today's predictive maintenance has its roots in supervisory control and data acquisition (SCADA) - a control-system architecture formed of computers, networked-data communications and graphical user interfaces for high-level supervision of machines and processes, for assets either in situ or in remote locations.
Predictive maintenance is rooted in SCADA systems
"SCADA has been around for 40 years," says Hancock, "but Industry 4.0 technologies such as artificial intelligence, machine learning and Internet of Things (IoT) have taken it to a whole new level of sophistication."
He adds: "SCADAs were all about condition-based monitoring. So, 'If this happens, then do that'. But what people increasingly want is a predictive element, such as gaining insight on the useful remaining life of an asset somewhere out in the field. With big data, it's now possible to carry out trend analysis to get at this kind of information."
Using today's technologies, it's also possible to exert fine control over individual assets, wherever they might be. An electric motor on a piece of machinery in the desert, for example.
"The amperage in a failing motor is different to one that's working properly," says Hancock. "So you can put thresholds into your algorithm to alert the operator about this before any damage happens."
He adds: "In this way, over time you get an understanding of the optimal way to set up servicing intervals for equipment, to make sure that nothing ever fails."
Too much data can be as bad as too little
But Hancock warns that data-driven solutions can also bring their own problems.
"With predictive maintenance you should always be looking out for the exception," he says. "Think of a temperature gauge on a piece of equipment, which is feeding back data. If everything is running fine, it will always be roughly the same temperature. You don't need to keep feeding back data about that piece of equipment. The only data you want to capture is if something changes - say if the thermostat fails.
"With data, less is usually more. Systems can soon get inefficient if overloaded with data. And then you end up chucking more tech at the problem, where what you really need to do is cut back on the data."
Prescriptive maintenance also on the rise
Predictive maintenance might feel like a new concept to many, but, says Hancock, some companies are already taking things to the next level, using tech to help drive something called "prescriptive maintenance".
He says: "Imagine you have two identical assets. One's nicely tucked inside a factory and so is in a fairly constant environment, but the other asset is exposed to the elements on the seafront. Clearly, you're going to have different performances from those two assets, and so you create prescriptive maintenance cycles that take environmental conditions into account. It's an individualised maintenance strategy."
The energy and chemical sectors use prescriptive maintenance tech most heavily, because of the vast environmental differences in which they operate.
Having fine-tuned maintenance cycles - whether predictive or prescriptive - is important for preventing over-maintenance as much as under-maintenance, Hancock stresses.
"If you're over-maintaining an asset, you're wasting money and resources. Why do an overhaul every six months when it's not necessary? With predictive maintenance, you can use historical information via IoT sensor data and extend the maintenance cycle to seven or eight months, with no negative impact on the machinery."
This is why predictive maintenance has huge sustainability benefits, because assets cost less to run over their lifetime. Also, longer maintenance cycles means fewer journeys for maintenance personnel, which cuts down on carbon emissions.
Sustainability a key goal of predictive maintenance
With sustainability now an issue of utmost importance for businesses, the green gains of predictive maintenance solutions are also very appealing. One company helping on this front is UK-based Freeway Fleet Systems, which provides enterprise-level vehicle assets maintenance and management software.
"We offer an end-to-end digital solution for vehicle maintenance and compliance, using mobile devices that are synchronised with a central asset management system to eliminate paper across compliance-heavy engineering operations," says Patrick Tandy, MD, Freeway Fleet Systems .
Freeway also helps customers manage stores and purchasing, offering insightful financial and management analytics that help operators reduce costs.
As well as sustainability, safety is another big plus with predictive maintenance. To this end, in February 2022, Freeway announced a partnership with a leading predictive maintenance solution company, Stratio.
Stratio's AI platform eliminates unplanned downtime and reduces maintenance costs by predicting faults in key components. Stratio is working closely with Freeway to spearhead the introduction of the technology into the transport and bus sectors.
"Safety is a big issue when transporting passengers, and our primary focus will initially be in the bus and coach sector," reveals Tandy.
He added: "Stratio's platform is being integrated with our fleet maintenance system to provide crucial, real-time information on real-time vehicle performance and condition. There have long been demands for live diagnostic data from vehicles to be incorporated into vehicle maintenance planning."