How to keep your supply chain safe in extreme weather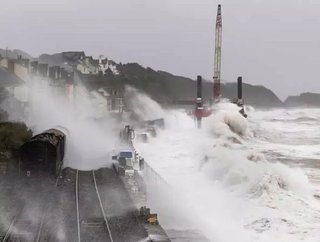 Extreme weather conditions are not a new feature of the world weather though change in climate has changed the frequency and severity of extremes. Devel...
Extreme weather conditions are not a new feature of the world weather though change in climate has changed the frequency and severity of extremes. Development in exposed areas and the increased value (and vulnerability) of assets in such areas are also important factors. Over the last few years, the devastation caused by extreme weather has dominated media headlines worldwide. The economic impact this has on the global economy is vast, with the UN recently estimating extreme weather has caused $1 trillion worth of damage over the last decade.
It is widely acknowledged the frequency of these extreme weather events is likely to increase in the future. The occurrence of Category four and five hurricanes has more than doubled since the 1970's, partly caused by the 1°C average global increase in ocean temperatures in the same period. The UN also recently announced 2016 as the hottest year on record, indicative that an increasing number of severe weather events is a trend likely to continue.
This increase in global temperature will result in more intense levels of precipitation which in turn will increase the frequency and severity of flooding. A recent report suggested that one sixth of all property in the UK is at risk of flooding. Indeed, the UK business community is still recovering from the effects of 2015's Storm Desmond, which affected over 200 businesses with many still, even now, not fully operational. This kind of event, clearly showcases just how destructive extreme weather can be to business and why mitigating against such a risk should be top of mind for companies.
Whilst extreme weather events cannot be stopped, businesses should take precautions and ensure that their operations are resilient, in order to mitigate damage caused by extreme weather.
When a major incident does occur, the result can be traumatic for business, as reputation, profitability and market share can be negatively affected. Mitigating these risks is therefore crucial, to guarantee a business' long term future.
So what can businesses do to protect themselves against the damage and disruption caused by extreme weather?
Loss Prevention
A key part of loss prevention is building business resilience. A resilient business can sustain market share and retain reputation following an extreme weather event, gaining an advantage over competitors.
Wind
The major impact of strong winds and the most costly, is the damage that results when the building's envelope is torn open and lets wind and rain into the facility. During a windstorm, damage to the building's structural frame seldom occurs. Yet, a very small breach in the building envelope can damage large area of the building's interior. For this reason, keeping the building envelope sealed is one of the most effective ways of preventing windstorm damage at a facility.
A building envelope can be kept secure in various ways, such as by ensuring that roof perimeters with particular focus on corners are strengthened with fasteners, undertaking regular maintenance to repair damaged roof flashing, walls or weaknesses which high-strength winds could exacerbate, and ensuring that higher level openings are properly designed to withstand the expected wind speeds.
Flood
Research has shown that a flood can cost your businesses an average of £2.1m in property damage. Therefore it is key for businesses to fully understand the exposure of their site to prevent flood loss.
For a facility located in a known flood zone, it is not a case of if it will flood, but when. Flood damage and disruption is influenced by the depth, velocity of floodwaters and duration of the event. Floodwaters carry sediments (sometime of large size) that can damage and even destroy properties. They can contain various contaminants including chemicals and even raw sewage which also adds to the damage potential. Facilities that exist within flood zones should prioritise two strategies: keeping the floodwater out of important buildings, and limiting what gets damaged when water does enter a structure.
To reduce the impact of flood on business, there are simple, practical steps that can be taken, such as moving critical items out of exposed areas. The damage can be mitigated by making permanent physical changes to your facility, such as installing flood proof doors, barriers, submersible pumps, anchoring any outside equipment, and filling empty storage tanks. Where the above is feasible and practical, these measures significantly reduce the impact of a flood.
Elevating important equipment (permanently or temporarily) above predicted flood levels is also an excellent way of mitigating the damage. As a minimum all facilities potentially exposed to flooding should develop a flood emergency response plan. Such plan should be based on an understanding of the importance of assets to the business as well as their intrinsic value and the repair/replacement time is such assets are damaged.
Supply Chains
As the world becomes increasingly interconnected, and the drive for efficiency increases, loss prevention becomes more complicated due to the nature of global supply chains. Now, one event far away can cause operations along the entire supply chain to cease. With this in mind risk to the businesses from the supply chains need to be properly evaluated, and that protection options or alternative supply sources are identified.
These alternatives need to be in locations not susceptible to the same type of weather events. Businesses that have adequate risk prevention practices in place will be in a position to gain an advantage over competitors who do not.
How can an insurer help?
Given the variety of risks that extreme weather events can present for businesses, it is clear that insurers should help their policy holders in a number of ways. At a basic level, insurers can compensate for lost income, ensuring that businesses still have the capital available to keep operating and will not be brought to a standstill by an extreme weather event.
Insurers can also go a step further by assisting in the creation of a business continuity plan covering areas such as, disaster recovery, employee safety, retrieval of business data, emergency communications and the possible relocation of a business to a more suitable area. A continuity plan can ensure that a business can resume normal operations quickly, safeguarding market share, reputation and profitability.  
Insurers should help clients identify the, 'pinch points', as well as show which areas aren't covered, to help them create a higher level of resilience within the business, which will mitigate the damage that extreme weather events can cause.
At FM Global we believe that business resilience and the long-term success of an organisation go hand in hand. With this in mind we would always encourage our policy-holders to take a long-term view of their businesses, and to implement risk prevention strategies which increase the resilience of their business. A resilient business can mitigate both the material and reputational damage that extreme weather events cause, ensuring long-term success.
By Joe Cullen, Group Manager - Field Engineering, FM Global