Dubai Food Park: Plans unveiled for AED 5.5 billion project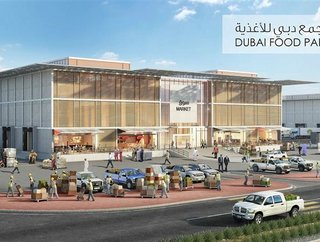 Ruler of Dubai Sheikh Mohammed bin Rashid Al Maktoum has revealed the emirate will invest a massive AED 5.5 billion in developing a one-stop-shop for...
Ruler of Dubai Sheikh Mohammed bin Rashid Al Maktoum has revealed the emirate will invest a massive AED 5.5 billion in developing a one-stop-shop for food businesses.
Dubai Food Park, the latest addition to Dubai Wholesale City, will measure 48 million square feet in size and will be positioned as an attractive environment for business operators and investors in the food sector to facilitate access to new markets and global investments. 

The Park will benefit from Dubai's considerable infrastructure in land, marine and air transport and is set to play a key role in supporting food security in the country.
RELATED STORIES
The project is in close proximity to Dubai South, only 10 minutes away from Al Maktoum International Airport and the Expo 2020 Dubai site, and a 15 minutes-drive from Jebel Ali Free Zone. The strategic location of the project adds to the attractiveness of the investment opportunities it offers.
It aims to enhance Dubai's position as a leading regional hub for food trade and re-export of foodstuffs. Given that food trade makes up 11 percent of the UAE's GDP, and that the food industry is estimated to grow by 70 percent to AED 23 billion by 2030, the Park seeks to offer all categories of food-related services, including modern infrastructure and ancillary services.

The Park is also set to provide a range of comprehensive government services including customs, clearance, licensing, food safety and supervision under one roof. Providing a full suite of services will help boost the growth of food companies and reduce supply chain costs, in addition to fostering innovation and creativity across the sector.

His Excellency Abdulla Al Habbai, Chairman of Dubai Holding, said: "The development projects by Dubai Holding strongly support Dubai's economic diversification and are strategically designed to help ensure Dubai is well equipped for the future. This vision requires dedication and hard work, and a careful approach to planning and execution in line with the ambitious Vision of Dubai's leadership.
"Dubai Food Park has been established to meet the growing demand from the food sector in the UAE and the region, triggered by population growth and the development of the tourism sector. There is an increased need for specialised logistical services that ease supply chain costs, as well as for more dedicated spaces to accommodate the fast growing operations of food companies in Dubai." 
The site will also house a central wholesale market that serves the retail, hospitality and food service sector, a logistics area, an area for complementary services such as packing, repacking, and processing, and a dedicated area for handling packaged goods. It will also host employees' accommodation, in addition to hotels, financial services, a centre for integrated government services and recycling organic waste.