Apple's barbed supply chain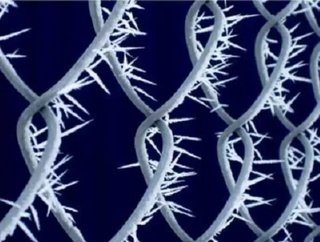 Memorys a tricky thing, but when I read this article in Wired early last year in the print edition, Im almost certain the headline went: "1 milli...
Memory's a tricky thing, but when I read this article in Wired early last year in the print edition, I'm almost certain the headline went: "1 million workers.  90 million iPhones.  17 suicides.  Should you care?"
If you clicked on the link, you might have noticed that the last part now reads "Who's to blame?"
I thought of that this week when The New York Times published a long piece on the human cost of Apple's supply chain – long an object of swooning admiration from technobuffs the world over.
A marvel of modern industrial design, Apple's almost historically unprecedented model allows products to be imagined, realized, produced, and distributed with awe-inspiring speed and precision.  As the Wired headline breathlessly notes, a million workers are employed to produce tens of millions of iPhones.
Those are big numbers.  17 is not as big a number.  It's just how many human beings killed themselves at the factories where our iPhones are made.
The Times article doesn't focus on the suicides as the only or best measure of Apple manufacturing's human cost.  It discusses in broader terms the strict discipline, brutal time management, and generally dehumanizing conditions of factory life.  And actually, the hot product of the moment has changed in the 11 months since the Wired article was published – from iPhone to iPad.
It's a side of Apple we may not be accustomed to thinking about.  A follow-up article published the same day cites a recent poll in which consumers were shown to be largely unaware of where or how Apple products are made.  The poll also revealed that Apple is a hugely admired company, with less than a quarter of the respondents able to note anything wrong with the computing giant.
Whether or not, as the Wired article of my memory asks, we should care about the human suffering associated with Apple's production methods, it turns out that most of us, well, don't.
To me, that's not quite as bleak as it seems.  Since, for most of us, there's very little we feel we can do about Apple's supply chain one way or another, it's not a battle many of us choose to pick.
The truth is, it's a big world, and there's quite a lot of work-related suffering to go around.  Many of us have or have had pretty awful jobs at some time in our lives, and it's hard to convince us we shouldn't buy an iPad because Apple's a crummy boss.  If I went by that logic, I never would have gotten drunk with the wait staff when I worked at that Applebee's in Plano.
But with a ubiquitous presence in our daily lives – and more cash on hand than the U. S. government – Apple is a major cultural institution.  It's a big deal.  How they do business reflects on our community as a whole.  And there comes a time when you cross that line, à la Mr. Burns, "between everyday villainy and cartoonish super-villainy".
I admire Apple as much as anyone, but when people are jumping off the building where they make your phone – and a year later, conditions remain as cold, unyielding, and frankly brutal as ever – it may be about time to step up.
Do you care?  Probably not.  Should you care? 
You know what?  You really should.
SEE OTHER TOP STORIES IN THE SUPPLY CHAIN DIGITAL CONTENT NETWORK
Apple reportedly to shift production outsourcing
Apple 'insources' Samsung chip processing to Texas
Check out January's issue of Supply Chain Digital!