Aerodynamic innovative technology from Union Pacific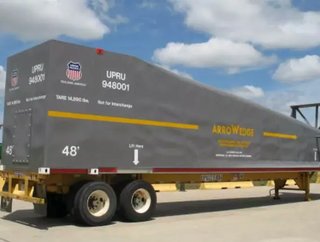 Follow @JosephWilkesWDM Unique aerodynamic fuel-saving technology for double-stacked intermodal freight trains has been unveiled by the USs largest rai...
Unique aerodynamic fuel-saving technology for double-stacked intermodal freight trains has been unveiled by the US's largest railroad network.
Union Pacific has unveiled its Arrowedge, an employee-designed aerodynamic technology for fuel and locomotive emissions reductions on double-stack intermodal freight trains.
Years in development, the Arrowedge is the latest innovation to result from the company's efforts to design, build and implement fuel-saving technologies.
Mike Iden, Union Pacific's General Director for Car and Locomotive Engineering, said: "The Arrowedge represents Union Pacific's focus on pioneering technology for operational and environmentally sustainable gains that ultimately result in enhanced customer service and community stewardship.
"We are excited to see the results of this innovation in action and how it can springboard further research and development."
A double-stack intermodal train accommodates freight containers placed two-high, one on top of the other, for better ride quality and rail car utilization.
Positioned on top of the first freight container, the 48-foot Arrowedge has a tapered body that allows air to more easily flow around the train's top frontmost containers. This reduces aerodynamic drag for more efficient transport of customers' goods. In addition, drag reductions decrease the amount of locomotive power required to propel the train.
Union Pacific holds two United States patents for the Arrowedge, with additional US and Canadian patents pending. The company expects to introduce the technology into double-stack train service between Joliet, Illinois and Long Beach, California, this month.
The company estimates that trains are the most fuel-efficient way to transport bulk cargo on land. It says that a single Union Pacific train can replace 300 trucks, decreasing emissions and reducing stress on America's deteriorating road and bridge infrastructure. It says it can move one ton of freight 480 miles on a single gallon of diesel fuel, the equivalent of a standard mid-size car getting roughly 200 miles per gallon.
From 2007-2012, Union Pacific invested $18 billion in its network and operations to support America's transportation infrastructure, including a record $3.7 billion in 2012.